PLMA's 2019 trade show will present more than 2,500 exhibit booths from the best store brands manufacturers of every size and description, while more than 5,000 visitors to the PLMA will include buyers and executives from U.S. supermarkets, mass merchandisers, drug chains, discount, club, convenience and dollar stores, in addition to online and specialty retailers, foodservice distributors and wholesalers.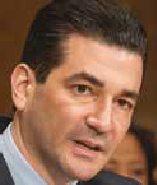 Keynote
Dr. Scott Gottlieb
Dr. Scott Gottlieb, who served as commissioner of the U.S. Food & Drug Administration from 2017-2019, drawing plaudits from Democrats and Republicans alike for his collaborative management style, will deliver the keynote for the opening breakfast at PLMA's 2019 Private Label Trade Show on Monday, November 18.
The FDA remains one of the most powerful and respected of all government agencies. During Dr. Gottlieb's tenure, the FDA delayed compliance deadlines for updating the Nutrition Facts label. The FDA is currently considering regulations that will have major impact on retailing and store brands, among them hempderived CBD products and ingredients, new over-the-counter medicines, food safety, labeling for plant-based meats and dairy, and much more.
Opening Breakfast
Monday, Nov. 18
8:00 am – 9:00 am
Hyatt Grand Ballroom
Retail Trends Breakfast
How Retailers are Building Billion Dollar Brands
Ali Dibadj, a partner at AllianceBernstein global asset management company, will be the featured speaker for the Retail Trends Breakfast on Tuesday, November 19. His speech will focus on How Retailers Are Building Billion Dollar Brands and what that means for retailing and consumer brands strategies. Ranking repeatedly as a #1 analyst for both the household & personal products as well as the beverages & snacks industries, Dibadj has been featured in business reporting for The Wall Street Journal, New York Times, CNBC, NPR, and other major news outlets.
Retail Trends Breakfast
Tuesday, Nov. 19
8:00 am – 9:00 am
Hyatt Grand Ballroom
---
Sunday Seminars & Salute To Excellence Awards
PLMA's Sunday seminars focus attention on the latest developments in online retailing and new product trends. The program kicks off with PLMA's 2019 Salute to Excellence Awards for outstanding store brands, followed by speakers on three of the industry's hottest topics:
Winning the Last Mile
CBD Products
Plant-Based Protein
Sunday, November 17
PLMA's 2019 Salute
to Excellence Awards
2:00 pm|Rosemont Ballroom
PLMA Sunday Seminars
2:30 – 4:00 pm
Rosemont Ballroom
All seminars will be presented at the Hyatt Regency O'Hare
---

Sam Mayberry, former head of product development for Amazon retail consumables and private label, will speak on winning the competitive battle for the last mile to the consumer, delivering online orders to shoppers, and how e-commerce continues to change the rules of retail.

Virginia Lee, research manager at Brightfield Group, a leading source of market intelligence for the CBD and cannabis industries, will speak about the latest CBD formulations appearing in nonfoods, supplements and pet products, and those soon expected to follow in food products.

Jim Wisner, president of Wisner Marketing Group will report on retailers adapting their product assortments to the rapid rise of consumer interest in plant-based foods on the heels of recent rollouts of meat alternative offerings by major U.S. fast-food chains like Burger King, KFC and others.
---
PLMA Chicago 2019 At-a-Glance
Saturday, November 16
11:00 am – 5:30 pm
PLMA Executive Education Program†
Sunday, November 17
9:00 am – 2:00 pm
PLMA Executive Education Program†
12:00 pm – 7:00pm
Trade Show Registration Open
2:00 pm – 4:00 pm
PLMA's 2019
Salute to Excellence Awards
Sunday Seminar Program
The Battle for the Last Mile
The Future of CBD
Plant-Based Meat Alternatives
7:00 pm – 8:00 pm
Opening Night Reception
Monday, November 18
7:30 am – 6:00 pm
Registration Open
8:00 am – 9:00 am
Opening Breakfast Keynote Speaker:
Dr. Scott Gottlieb, FDA
9:00 am – 6:00 pm
Trade Show Floor Open
9:00 am – 6:00 pm
Idea Supermarket® & New Product Expo
Tuesday, November 19
7:30 am – 4:00 pm
Registration Open
8:00 am – 9:00 am
Retail Trends Breakfast:
"How Retailers Are Building Partner
Billion Dollar Brands"
Ali Dibadj, AllianceBernstein
9:00 am – 4:00 pm
Trade Show Floor Open
9:00 am – 3:00 pm
Idea Supermarket® & New Product Expo