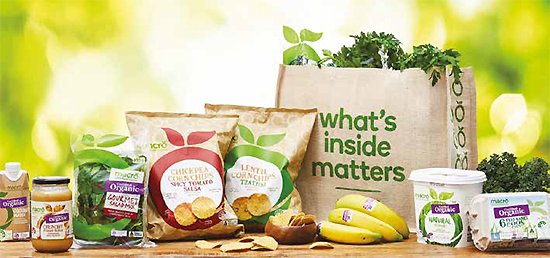 By Marcel Wijnen / Creative Director, Anthem And Marque Branding Australia
Modern trade and private label are not new concepts in developed markets such as the U.S. or Europe. However, the growth of private label products has been slow in the Asia Pacific market because Asian consumers are strongly brand-loyal and often tend to infer product quality by assigning cues, such as paying more notice to high-priced products.
The recent marketing investment to persuade shoppers to trust the quality of private label brands has caused a shift within the retailer and shopper world in the Asia Pacific region. As has long been established in the Americas, private label brands are no longer seen as generic, second-rate items bought out of necessity. Rather, they're becoming brands that Asia Pacific consumers desire. From Amazon to Aldi, David Jones to Target, retailers are noticing this transition and seeing the value.
In the last month, almost every shopper has likely picked up a private label product, whether consciously or not. In Australia, patrons of the discount supermarket Aldi are probably the most conscious of their private label purchases, but if you walk into a Coles or Woolworths grocery store, you may be surprised by the number of private label brands you'll find.
Similarly, Amazon has long been a conduit for businesses and consumers but is now becoming a retailer itself. In 2009, Amazon launched its first private label, Amazon Basics, selling a full product line of electronic goods from disposable batteries to USB cords and laptop bags. Today, Amazon sells private label brands for everything from fashion to food, health supplements to household goods . There are currently 41 private label brands associated with Amazon , an exponential growth since 2009.
In a recent research study conducted by Field Agent , 51 percent of 500 Australian shoppers said they liked private label brands more than they used to, with a further 31 percent reporting they've always liked them. Over a third of shoppers estimated that 25 percent of their grocery list consisted of private label brands, with another third putting the number at 26 to 50 percent of their total purchases. Driving this demand is the need for hard-earned dollars to be stretched as far as possible, without wanting to compromise on quality. And consumers are learning that's a compromise they no longer have to make:
"Interestingly, almost 4 in 5 shoppers (86%) stated that they would continue to purchase the same amount of private label brands even if their household income increased." – Field Agent
Today, consumers in Asia Pacific desire private label brands more than ever and shoppers are priding themselves on shopping smarter. Value is a huge driver, and with the quality of packaging and design improving over time, shoppers aren't shying away from having a private label brand on their tables or in their homes.
Building a Private Label Brand for Today – 4 Key Steps
As shoppers become increasingly informed and purchase-savvy, making private label brands their preferred choice, what does it take to build a successful private label brand today?
1. Re-creating value
You need to be a brand that creates value, not simply a brand with a value offer. This means private label brands need to differentiate themselves in the marketplace and fulfill a need not met by major national and global brands.
In Australia, Woolworth's Macro Wholefoods is an example of a brand that understands the functional and emotional needs of shoppers in the world of healthy eating. While most health food brands offer their range at a premium price point, Macro differentiates itself by making healthy eating accessible to everyone through its competitive pricing and huge range of products.
The brand also takes an emotive world of healthy and wholesome food accessible to everyone and creates the feeling of "you get me," which plays beautifully into the truth that we don't just buy products, we buy emotion.
UNMET NEED
+ EMOTIONAL CONNECTION
+ COMPETITIVE PRICE POINT
= PRIVATE LABEL BRAND LOVE
2. Realigning your retail brand and private label brand
The strongest private label brand portfolios are the ones that are aligned with the positioning of their retail master brand. When both complement each other, it reinforces a positive association while endorsing the credibility and authenticity of both. Aligning your private label brand with your retail brand also means showcasing it as a defendable proof point of your brand experience. After all, one of the perks of building a private label brand is the exclusivity it lends to your retail brand. When you've created a well-loved private labelbranded product that only your retail store offers, you'll gain loyalty.
3. Reinvigorate your private label brand constantly
A successful private label brand is one that does not remain stagnant. Trends are changing quickly in the retail space, and shoppers are looking out for the latest "new news." What this means for your private label brand is continuous innovation and improvement. Developing fresh ideas and growing your product range will keep shoppers excited and inspired. Plus, with constant experimentation and creation, you will not only grow the loyalty of your current private label shoppers, but you'll be able to attract and convert new shoppers.
4. Restart your organisation's culture
The success behind any brand begins with the internal company culture. When your team decides to build a private label brand, you must first define what it means to you and the culture within your organisation. From product developers to your marketing team, there needs to be an alignment that focuses on brand building. Private label brands are not just another alternative; they are true brands you get to own, and owning them means creating something you'd be proud to see on shelf or in your home. For your private label brand to succeed on the shelf, you must first begin with the right intention.
If there's one learning we can take from shoppers, it's their perspective. They are no longer viewing private label brands as generic products, but as adding value regardless of price. They are shopping smarter, seeking better quality and fresher ideas, and finding what they want in new private label brands. Retailers should be considering how they can further grow their private label-branded world and improve the experience for shoppers.
You can begin with a simple question, "What do I have to offer to make the marketplace better?"
SOURCE:
– www.cpcstrategy.com/blog/2017/07/ amazons-private-label-brands/
– www.l2inc.com/daily-insights/amazon-hasmore- private-label-brands-than-you-think
– fieldagent.net.au/about-us/
– blog.fieldagent.net.au/2018/01/23/ store-brands-insights-on-private-labelbrands/
With over 20 years branding experience across three continents, Marcel Wijnen, Creative Director, at Anthem and Marque Branding Australia, is responsible for driving a culture of excellence, collaboration and creativity. A strategic thinker and creative problem solver, Marcel leads teams to develop insightful ideas that challenge sectors, transform brands and engage consumers. www. anthemww.com and www.marquebranding. com.