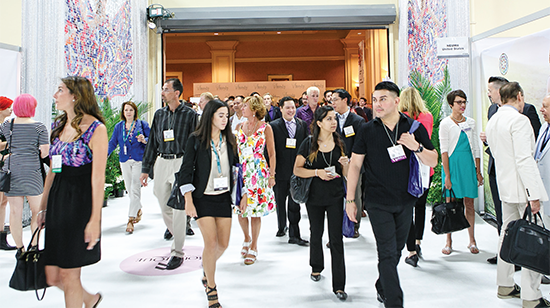 July 24th-26th Mandalay Bay Convention Center
Cosmoprof North America (CPNA), the leading beauty event in North America, will host over 1,000 exhibitors from nearly 40 countries at the Mandalay Bay Convention Center this July 24th-26th. Covering all facets of the industry, private retailers and manufacturers have the advantage of finding all solutions under one roof. This year anticipates over 30,000 attendees looking to see the latest in cosmetic & personal care; packaging, contract manufacturing & private label and professional beauty.
"We have created a platform whereby the best, most comprehensive array of brands from across the globe are represented," said Daniela Ciocan, Marketing Director of CPNA. "Opportunities to discover unique brand launches, product innovations, new channels for distribution, packaging, and manufacturing and to form key relationships with top industry professionals and retailers have grown abundant as a result."
Taking place July 24-26, 2016 at Mandalay Bay Convention Center in Las Vegas, this year's event expects more than 30,000 attendees from 100 countries worldwide and will play host to over 1,100 exhibitors from 35+ countries. With so much to see, the show has expanded into the newly built area of Mandalay Bay to host the world of beauty under one roof that features everything from raw materials to finished products.
Among the plethora of new inititavies and brands on display, CPNA recently introduced the INNOVATION CIRCLE. Shown for the first time in 2016, this virtual display case serves as a showcase for those companies willing to present new high-end products and avant-garde processes in the US market. INNOVATION CIRCLE will be centrally located within the exhibition area and will offer exposure for unique products that are new to the marketplace.
For a glimpse at the most innovative packaging concepts across the world, The Dieline exhibit should not be missed. The Dieline is an online platform that serves as the portal of information for top- notch packaging designers. The Dieline Awards is an annual event launched in 2010 to recognize the world's best consumer product packaging design.
The highly anticipated DISCOVER GREEN and GLAMOUR ME special areas are being featured for the first time.
Discover Green is a special area which is dedicated to eco-friendly, clean, organic and/or natural beauty products, and was created to mimic the high-end, exclusive feel offered by the returning Discover Beauty, Spotlights, Discover Scent, Tones of Beauty, IBF&E special areas. The decision to include a new "green" section comes on the heels of increased consumer awareness of the environmental impact and ingredient safety from products purchased. This new section will feature companies that showcase novel ideas in the growing environmentally conscious market, covering both the retail and spa distribution markets and including small indie brands, as well as ever-growing power brands. To that extent, DISCOVER GREEN will not make a distinction between the degree of "green appeal," but rather it will embrace all categories of green and wellness.
Glamour Me is a new beauty lounge located on the show floor inside the Professional Beauty Section. The special area allows attendees to experience participating exhibitor products first-hand. For a small donation going to charity, attendees can select to have their hair, nails, skin or makeup show ready with quick services provided by leading exhibitors. Their latest and greatest products, many coming out in the near future, will be demoed.
Returning for the second year is the highly successful Tones of Beauty, which showcases a select group of coveted and innovative multicultural brands across every major sector: Skin, Hair and Color. Representing the next generation in multicultural beauty, companies such as A.J. Crimson and Mielle Organics, will be just a few of the lines represented at Cosmoprof North America in this section. To ensure successful program implementation and brand selection, CPNA will repeat its collaboration with renowned global beauty media group love, Aunt Bonnie whose Founder & Global CEO, Corey Huggins will be personally curating the program.
Cosmoprof North America will also be hosting several conferences during the day to go further in-depth on topics that are relevant to the show attendees. Conferences will include topics including, How To Best Engage The Multicultural Market, TV Home Shopping Culture, Spa Market Evolution: Green Mile Markets, The Beauty OF Sustainability: More That Green Packaging, etc., all available at an added cost.
Aside from seeing the world of beauty under one roof and hearing from leading influencers, scent is also in the air – literally. Air Aroma, a leading scent branding agency that designs custom fragrances for luxury brands around the world, is returning to scent main show areas through its patented diffusion technology which will dispense a custom CPNA fragrance.
For more information or to register, visit www.cosmoprofnorthamerica.com.