By / André Michel and Koen de Jong, IPLC
With a population of 17m. and a turnover in food retail of €36.1bn in 2016 (+2.6%) the Dutch market is relatively small. Over the past 10 years the food retail market grew by 30%, notably due to fresh categories. Ambiant categories decreased in value due to very fierce competition on price.
The retail landscape in the Netherlands further consolidated over the past 5 years, resulting in a combined market share for Albert Heijn, Jumbo and Superunie of 83%. Yet the market remains scattered as Superunie only operates as a cooperative buying office of 13 small familyowned retailers. Each Superunie-member has its own store banner and format ranging from soft discount to full service formats.
In spite of challenging market conditions the 'Poldermodel-collaboration' results in a successful working relationship within the Dutch food retail industry. Many formal and informal contacts between retailers and the manufacturing industry allow for a smooth working relationship.
A typical characteristic of the Dutch market is the size of the drugstore channel. With a turnover of €3.5b it takes a large part of the personal care and OTC medicine sales.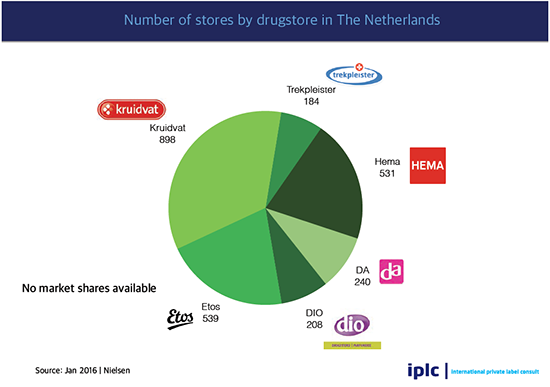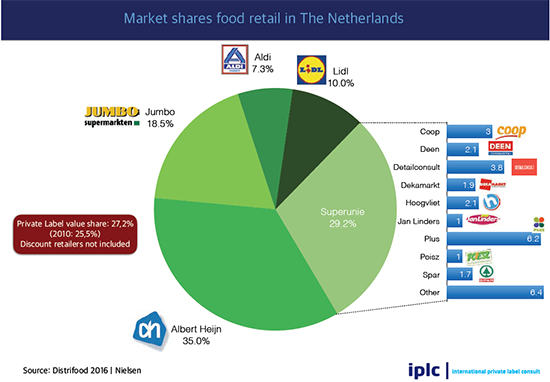 The Private Label Market >>
Private label in food retail has matured over the past 10 years and now has a market share of 26.6% (source: IRi Information Resources Inc.) However, it is important to emphasise that this figure does not include discount retailers Aldi and Lidl having a market share of 7% and 10.3% respectively. As these discounters offer almost exclusively private label products and hardly any branded products, the total private label market share reaches an estimate of approximately 42%.
According to IRi, premium private label (5.2% of total) and mainstream private label (80%) are growing at the expense of the budget private labels (14.5%). Albert Heijn >> Albert Heijn is part of Royal Ahold and has a solid number1 position with a market share of 35%. It follows a high-low pricing strategy, involving alternating between high and low prices by means of a regular promotions. Albert Heijn has 947 stores in total varying from medium to large sized supermarkets (Albert Heijn XXL).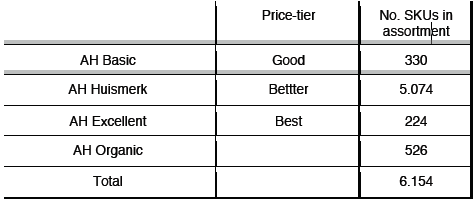 In view of its high market share in a relatively small market, Albert Heijn is the only retailer in the Netherlands capable of implementing a 3-tiered private label strategy as minimum volumes per SKU are required to justify production and ensure rotation. To complete this good-better-best segmentation, the private label architecture also comprises a line of 'organic' and 'free from' products.
The total number of private label products in the Albert Heijn assortment mounts to 6.154.
Over the past 2 years Albert Heijn has reduced the number of SKUs under the AH Basic label for reasons that will be explained later on in this article.
Over the past few decades Albert Heijn has pioneered in many categories with initiatives new to the market. Notably in chilled convenience many products were launched creating whole new categories like fresh cut vegetables and vegetable stir-fry mixes, ready meals and juices.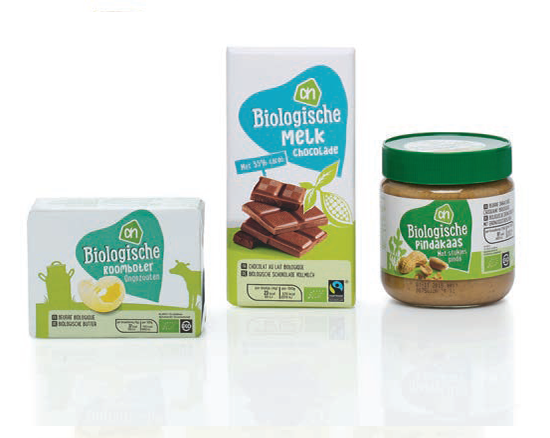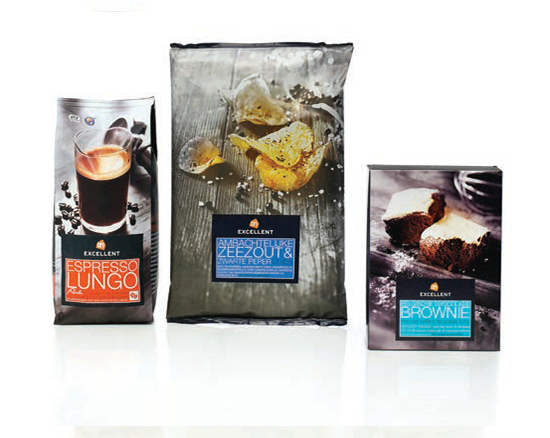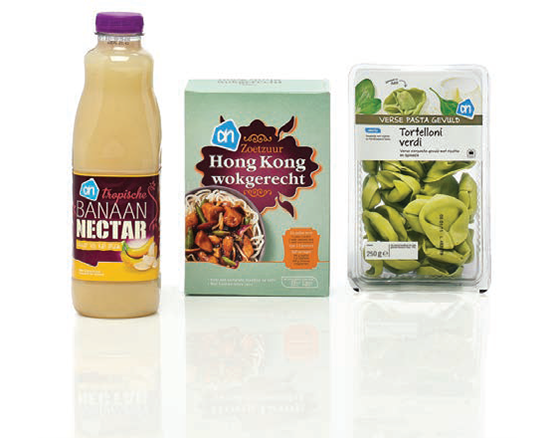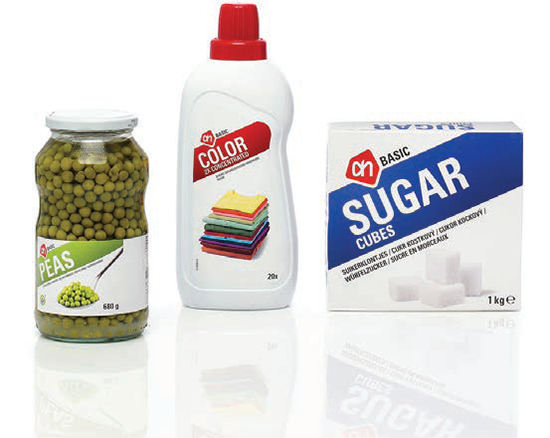 Jumbo >>
Family-owned Jumbo supermarket experienced a spectacular growth over the past 10 years: from 4.4% in 2007 to 18.5% in 2017. In 11 years time it took over competitors such as Konmar in 2006 (12 stores), Super de Boer in 2009 (300 stores) and C1000 in 2011 (400 stores) and took a solid number 2 position in the Dutch market. Jumbo has an every-day-lowprice (EDLP) strategy although it increasingly runs long-term price discount promotions as well. Jumbo has 584 stores of which 4 large sized Foodmarkets, with a strong emphasis on fresh and convenience products. Like Albert Heijn, Jumbo is a full service supermarket and operates with both franchisees and own stores. Format, assortment, logistics, pricing and marketing for all stores are the same.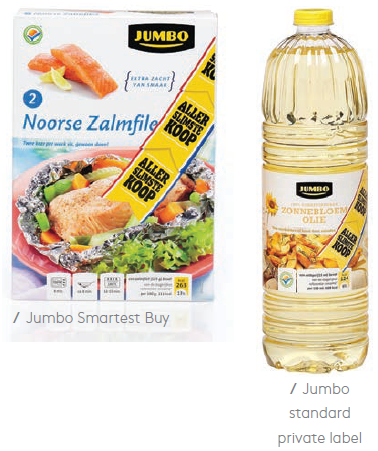 Despite its market share Jumbo considered it difficult to justify a separate budget line in its private label architecture. Therefore it chose for a creative solution to respond to the success of discount retailers in the Dutch market, notably Lidl.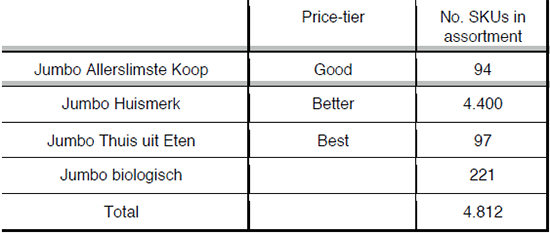 To discourage consumers from shopping at discounters, Jumbo launched the concept of 'Allerslimste Koop' (Smartest Buy) in 2014. With 'Allerslimste Koop' it offers a selected number of Jumbo private label products at a quality equivalent to the brand leader, but at discount price level (Lidl price). To the existing private label packaging Jumbo simply added a banner 'Allerslimste Koop' making it clearly recognizable for the shoppers in the store. Jumbo pioneered this strategy in categories where the leakage of shoppers to Lidl was the highest such as frozen fish, hygene paper and frozen potato products. After a year, the range of 'Allerslimste Koop' was expanded into other categories. The range now comprises 94 SKUs. Clear instore communication is used to navigate shoppers towards the products. Additionally Jumbo has a range of premium products 'Thuis uit eten' (eating out at home) and organic.
Last year Jumbo also entered the food restaurant channel as it acquired 61 La Place restaurants and 18 outlets of AC restaurants.
Superunie >>
As mentioned earlier Superunie is a cooperative buying group of which the members are predominantly regionally active but in some cases compete each other where their regions overlap. The Superunie central buying office purchases about 75% of the sales turnover of the adherents. The members range from soft discounter to full service supermarkets and mostly are only regionally active. The market share of Superunie has remained stable at around 29% over the past 10 years. The combined number of stores of the 13 members mounts to 1.661 ranging from small convenience stores to larger sized supermarket. To allow the members some kind of uniqueness, Superunie until recent sourced a combined volume by product but packed under 5 different labels: Plus, Spar, 1 de Beste, Perfect and Markant. Two of these labels: Perfect and Markant are now in a process to be replaced by one new label: G'woon. In addition to these labels Superunie sources a range of category specific fancy labels like Bon Bébé (baby food), First Choice (cola) and Daily Chef (chilled meals).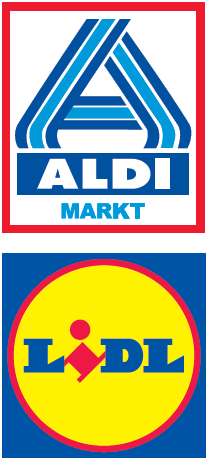 ALDI and LIDL >>
At the discount side of the market Lidl (407 stores) has experienced formidable growth: from 4% in 2007 to 10.3% in 2017. This limited assortment discounter has only around 1,500 SKUs in its assortment whereas Albert Heijn and Jumbo offer about 25,000 or more SKU's in their stores. Notably in fresh fruit and vegetable as well as fresh instore bakery Lidl has taken intiatives very well appreciated by shoppers. It successfuly grows at the expense of mainstream retailer market share. The phenomenal success of Lidl and to a lesser extent Aldi (market share 7% and 501 stores) in the Netherlands was fuelled by the economic downturn. Discounters successfully compete on price, quality, consistency and simplicity. Initially, the rather cheap-looking, no-frills stores attracted people on lower incomes. Now the concept is fully accepted with those on higher incomes also migrating to the discount format.
Whereas discounters are successfully moving up the retail spectrum, now offering fresh and premium products, mainstream retailers seem to be moving down in an effort to reduce the price gap with discounters.
Online food retail >>
Of total foodretail in 2016 online only had a share of 2,9 percent with Albert Heijn as the main player. Although a comparison with the United Kingdom with an online sales share of 7 percent is easily made, some caution is necessary. Supermarket density in the Netherlands is the highest in Europe with an average of 10 stores within a range of 3 kilometer.
A new kid on the block in online sales is Picnic Supermarket, a startup described as the disruptor in food retail and challenger of Jumbo en Albert Heijn. Picnic Supermarket operates an online store where shoppers order with an app. Electric cars connected with the internet deliver the order within a time-slot of 30 minutes. The efficiency of the system allows for free of charge delivery. Currently it delivers to 80,000 clients in 6 regions around the city of Utrecht and has ambitious plans to expand. In March this year Picnic Supermarket secured a €100m private equity funding to expand its operation nationwide within 3 years.
Future outlook >>
Lidl continues to put pressure on the market with good quality products at low prices. Mainstream retailers respond to this in different ways. Jumbo drastically reduces prices of a selected range of its private label assortment (Allerslimste Koop) offered at Lidl price level. Albert Heijn on the other hand seems to reduce the number of SKUs under its budget private label AH Basic. Many of these products being of lower quality were substituted over the past two years by fancy labels that do not refer to the Albert Heijn store banner brand anymore. Notably in chilled convenience this has been the case. We suppose AH feared to jeopardise shopper trust in the store banner brand products by offering food products of eroded quality. Ultimately we expect budget labels to disappear all together as shoppers can not be fooled. They insist on both good quality and low prices as they know these are available at limited assortment discounters.
Furthermore, we expect fresh convenience to take a larger part of the market with an expanded offer of ready meals and fresh cut vegetables.
Last but not least both market leader Albert Heijn and challenger Jumbo will increasingly offer small but innovative labels in their stores. Where possible on an exclusive base allowing for creating some kind of uniqueness. With an greater diversity in the assortment they seek to differentiate from the competition thus enhancing shopper loyalty.
About IPLC >>
IPLC is a boutique consulting firm specialised in strategic consultancy services and project management support to manufacturers and retailers. With a critical understanding of the European private label industry we help our clients with a pragmatic and action-oriented approach. Founded in 2003, IPLC has been involved in many international assignments of manufacturers, retailers and the supply industry. IPLC operates from its offices in the Netherlands, Germany, United Kingdom, France and Belgium.
For more information: www.iplc-europe.com.