By Denise Klug, LZ RETAILYTICS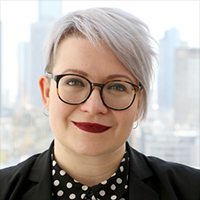 On 20 August 2018, 15-year-old Greta Thunberg decided to go on a school strike as a response to heat waves and wildfires in Sweden. Since then around the globe, students have followed her example. This public outcry in combination with a rise of natural disasters and record-breaking heat this summer in Belgium, Germany and the Netherlands is probably the main reason we are currently experiencing an increased awareness of environmental issues.
This situation in the European market builds a strong foundation for manufacturers and retailers to hit the market with green products and to push the demand even further. Sustainability has been a strong topic for quite some time, but in 2019, smart retailers and manufacturers are daring to go beyond the usual standards, to be innovative and to try entirely new things.
Discounters want a piece of the cake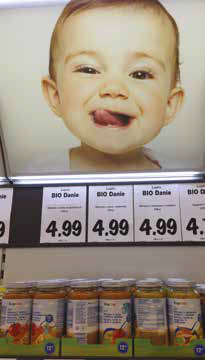 Discounters are amongst the most interesting forerunners aiming for a piece of the lucrative organic cake. In doing so, Aldi Nord, for instance, increased the number of EU Biocertified products by 28% in 2018. Lidl Germany has gone even further by establishing a co-operation with Bioland for its organic private labels. Bioland is the largest organic-food association in the country and its certification standards exceed the EU minimum requirements. In Austria and Slovenia, Aldi Süd's Hofer has extended its regional, organic label Zurück zum Ursprung to the sensitive baby care category while Lidl has added a similar range in Poland. The importance of these approaches gets even more significant if we consider the sheer size of the players. Their major strategic moves are usually implemented on an international level. Lidl-parent Schwarz Group is the largest retailer in Europe. Lidl alone would be Number 1 in the ranking by sales with a presence in 28 European markets. Aldi, which is going to be the second largest retailer by the end of the year, operates in 16 countries.
The Great Beyond
In turn it seems the value-market players with their rotating special offers have emerged as the ideal test bubble for new product launches. When US innovator Beyond Meat entered Europe, the vegan brand tapped into price-conscious Germany by making its retail debut at Lidl followed by a limited-time listing at Edeka's discounter Netto. In both cases, the shelves were empty within only a couple of hours.
Lidl is prensent in 28 European markets
The advanced fake-meat patty was introduced simultaneously with Nestlé's Incredible Burger – just at a time when some cities saw the first vegan restaurants and cafés close their doors. The boost had just slowly started to wear off, veganism seemed to have lost at least some of its trendy appeal. Now, thanks to the new-born awareness of environmental topics, people seem to be more willing than ever to make compromises to meat and sausages to reduce their carbon footprint – and the new kind of advanced fake products make the switch even easier.
Lidlcares
The 2019 definition of sustainability includes various aspects. Shoppers starve for a holistic experience: Animal rights, carbon footprint of the production, less plastic, more regional, organic certification, improved rights for workers – environmentally conscious shoppers take all these aspects into consideration and favour items with at least one bold and visible statement on the packaging.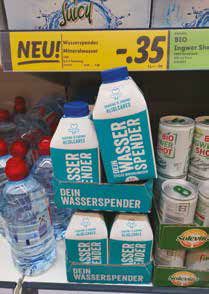 Some retailers and manufacturers managed to raise the bar promising they are going to donate parts or all of the profits of individual and innovative products to charity. For instance, Morrisons' ready-meals for children – sold under the private label Little Kitchen – have all been "taste-tested" by a group of kids from cancer charity CLIC Sargent. The retailer announced it is going to donate GBP300,000 of sales to this partner. Makeup company Too Faced have launched a cruelty-free line called Clover with several campaigns that are linked to donations to animal charities. German toilet paper brand Goldeimer goes one step further. The manufacturer states it is going to donate all its upcoming profits to help build toilets in poor countries. And of course, if there is a trend, Lidl has to jump on the bandwagon. The market leader donates 10 cents per sold 0.5-litre pack of its new private label water to SOS Children's Villages and boldly prints #lidlcares on the products. What all these examples have in common: The more shoppers consume, the more the companies donate. This means if retailers and manufacturers are smart, similar moves could help to make consumption itself a good cause.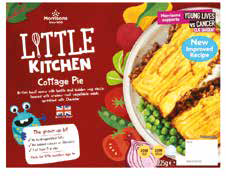 Implications
The time is ripe for new ventures in the field of sustainability. For most customers, it is not easy to step up and become the next Greta Thunberg but changing personal shopping decisions and behaviour already helps to ease the conscience and make people feel less passive.Discounters understand that aggressive giants Lidl and Aldi are on the forefront of innovation. This means that they excel on an international level in an area that used to be one of the USPs of full-range players. Others have already started to copy their approaches to ensure they do not fall too far behind the no-frills competition. However, it would be a smarter plan to push differentiation to a more granular level. There are plenty of small innovative manufacturers with fresh, green ideas just waiting to be discovered. And this means for these specific producers: it is now the best time to approach retailers with sustainable product ideas. Small- and mediumsized companies must dare to be different, try out something new and speak about it. The products' added value needs to be communicated clearly and on as many platforms as possible.
Good ideas could see a permanent place on market shelves as the current wave of sustainability is much more than a fad or hollow marketing term. It has become a necessity for people looking forward. It has become the recipe for a better future.
Denise Klug, is the head of the international analyst team. In addition to that, she gets very excited about anything that has to do with private label trends and loves to deliver projects with this specific topic. Before joining LZ Retailytics, she was head of the Modern Grocery Distribution team in Planet Retail's (Now Edge by Ascential) Frankfurt office and oversaw and created the private label content plan for this company.
This article is sponsored by Trace One. "Founded in 2001, Trace One powers the largest platform for the development of consumer packaged goods with more than 20,000 companies in 100 countries developing over $300B in products annually. We help retailers and FMCG companies to create and evolve unique, healthy, and responsible products to market faster. For more information, visit www.traceone.com.