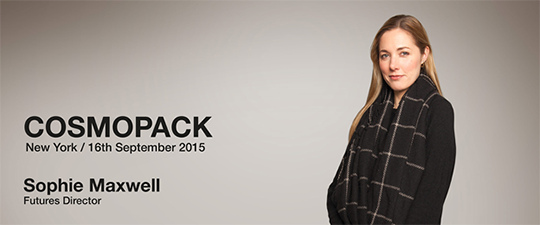 Cosmoprof Bologna (CPBLG), the leading B2B beauty trade show in the world, has announced its collaboration with creative design/branding agency Pearlfisher as part of the Cosmopack New York's educational program. Pearlfisher will be hosting a special conference titled, "Peek Into Tomorrowland: The Beauty Futures." Sophie Maxwell, Pearlfisher Futures Director, will be headlining this conference.
As part of the "Tomorrowland" conference, Sophie will be discussing the increasing influence that personalization has on brands and consumers in the ever-growing beauty business. With a degree in Fashion Marketing from Central St. Martins, Sophie combines a fashion industry background with nearly 20 years working in the branding industry to inform and inspire brands about the power of change and what it can mean for them. In her presentation, Sophie will explore Pearlfisher's findings on the future of optimization, how brands are beginning to unlock the power of personalization on a mass level, and what it means for the future of the beauty industry. Providing real world examples, Pearlfisher's perspective on optimized beauty looks at the new ways in which beauty brands are innovating.
"Today's consumers have never had such a vast availability of knowledge, experience and products created to suit their preferences and they are now enjoying, if not demanding, the ability to influence these too. As such, the future of the beauty category will be driven by a much deeper knowledge and understanding of its consumers thanks to their involvement. They are creating a powerful dialogue with brands thanks to the information that is now being shared and their reward is products tailored specifically to them," said Sophie. "We're excited to present our vision of the future at this year's Cosmopak and share knowledge and examples that are vital for those operating in the beauty and wellbeing space. The influential brands of the future will be those who behave in this way to build on our individual strengths, target our weaknesses and create a revolutionary generation of products that will truly have the ability to optimize us."
Pearlfisher was selected to host a conference for Cosmopack NY due in large part to their cool factor combined with unique proprietary tools and insights gained from working on top tier brands with a global perspective. Through three studios — Pearlfisher Futures (insight, ideation, innovation, and investment), Pearlfisher Strategy (brand strategy, portfolio strategy, design strategy, communications strategy), and Pearlfisher Design (identity, packaging, product, environment, digital, creative technology & realization) — working individually or together, they are able to harness change, express meaning and make impact across various industries. The company's commitment to producing award-winning creative work was also an important factor. Internationally recognized, Pearlfisher has been on the receiving end of high-profile awards such as Cannes Lions, D&AD, Clio, Mobius, London International, Pentawards, FAB, New York Festivals, GDUSA, The Sunday Times 'Best Companies' list and more.
"We are very excited to have award-winning Pearlfisher, one of the leading branding agencies in the world, involved in our Cosmopack educational program," said Rossano Bozzi, Director of Cosmopack. "We look forward to hearing them deliver inspiring ideas, unique future focused insights, and tangible innovation solutions that can be activated."
Register prior to September 12 for Complimentary Admission to Cosmopack NYC, featuring Pearlfisher Conference
http://www.cosmoprof.com/how-to-take-part-buyer