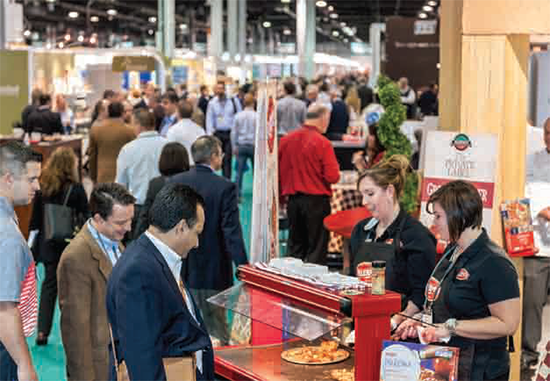 As own-label continues to set new sales records in the U.S., PLMA is adding a growing number of international exhibitors to its World of Private Label Pavilions in both food and nonfoods for its 2016 Private Label Trade Show, November 13-15.
The show draws the largest attendance of U.S. own label buyers annually. More than 5,000 visitor registrations year after year include buyers and executives from the largest and most important supermarkets and drug chains, mass merchandisers, club and convenience stores, specialty retailers, foodservice distributors and wholesalers.
The show has seen a steady increase of companies coming to Chicago from around the world to introduce new and unique products and to showcase their manufacturing capabilities.
Retailers can expect to see suppliers from Italy, Spain, Denmark, Germany, Belgium, The Netherlands, Greece, Turkey, Israel, India, South Korea, Vietnam, China and Taiwan, as well as from Canada, Mexico, Ecuador, Peru, Columbia, Chile and Brazil. France and South Korea, will also take their place among exhibitors featured in PLMA's own "World of Private Label" pavilions, while 150 international companies are expected to take exhibit space independently.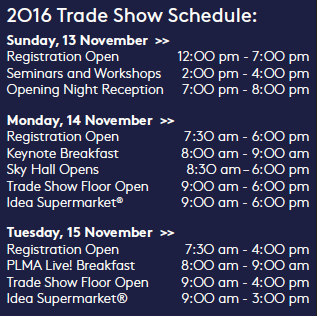 As U.S. retailers continually seek to expand their private brands to new categories, special exhibits such as PLMA's New Product Expo turn a spotlight on new products being featured by exhibitors as a way to help buyers navigate the enormous and diverse assortment of product offerings.
In addition, PLMA's popular Idea Supermarket®, features selected store brands programs, products and packaging from more than fifty leading retailers from North and South America, Europe and Asia.
Two major exhibit halls offer shelf-stable foods and beverages, frozen and refrigerated foods, including fresh deli, dairy & bakery items. A third major hall is devoted to nonfoods, including health and wellness, beauty and personal care, over-the-counter pharmaceuticals, kitchen and household products, paper and plastic, and general merchandise.
Trade show registration includes PLMA Sunday seminars, Monday keynote breakfast and the PLMA Live! breakfast on Tuesday. Speakers and workshops focus on the most significant retail trends, latest consumer research and new store brands opportunities.
Store brands sales in the U.S. reached $118.4 billion in 2015, an all-time record and an increase of +$2.2 billion over the previous year. In the past two years alone, annual sales are up +5%, or +$5.4 billion, in the major retail channels, according to PLMA's 2016 Private Label Yearbook.
For information on attending or exhibiting at PLMA's Private Label Trade Show, contact PLMA (212) 972-3131 or email info@plma.com.