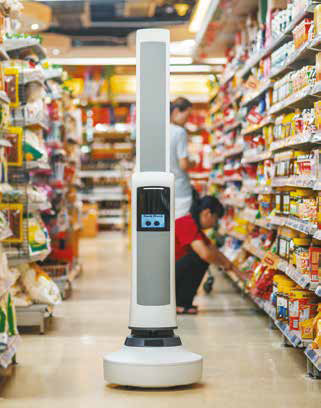 In a first-of-its-kind pilot program, Advantage Solutions' digital technology division and Simbe Robotics piloted a program with leading global consumer goods manufacturers to identify on-shelf opportunities and ultimately provide a better shopping experience.
Simbe's Tally, their autonomous shelf-scanning robot, collected real-time shelf data, which Advantage then analyzed and contextualized into actionable data and findings. Simbe deployed Tally over a six-week period in three of Schnucks' highest trafficked supermarkets.
Here, Tally successfully conducted three scans per day over the course of the pilot program. Leveraging Advantage's deep client relationships, Tally's computer vision technology captured and analyzed a wide range of data on behalf of three leading global manufacturers. "Our experience with Tally has demonstrated the ability for this technology to capture data at a granularity and a frequency not previously possible," said David Cortese, president of Advantage Digital Technology. "We are extremely impressed with the quality and accuracy of the information Tally yields and the imminent opportunity for our clients to garner deeper insights on store conditions and improve the consumer's shopping experience. Advantage will continue its collaboration with Simbe in exploring the deployment of Tally at additional retailers."
Participating manufacturers received daily reports and a cumulative analysis of macro trends. These reports detailed how their brands could better complement instore category management and on-shelf opportunities. Reporting encompassed out-of-stocks, trafficked items, low inventories, and pricing audits.
"The insights that our clients received from Simbe and Advantage provided a much-needed glimpse into what's happening at the shelf level for their products." said Cortese. "The deep insights and analysis enabled them to make immediate changes in inventory allocation and shelf placement based on where consumers look the most, bringing a more tailored and tactical shopping experience. These changes led to overall growth for the client participants and their brands."
Participating manufacturers gleaned the following insights from the Simbe pilot program:
Data-backed understanding of local market needs and how to optimize for the future
Root cause for lack of product on shelf (store operations issue, warehouse depletion, buyer issue, discontinued product, misplaced item, etc.)
Visibility into share of shelf, price, and promotion trends across categories
Analysis of "shelf health" by time of day and time of week
Ability to correlate shelf position and shelf performance to sales
Validation for assortment resets
"Partnering with Advantage is the perfect complement for Simbe to prove how our technology will lead the retail industry trend in data-driven sales," said Brad Bogolea, CEO and Co-founder of Simbe Robotics. "Retailers are missing out on nearly $450 billion in under-optimized shelf space. This trickles down to brands and products in a big way. There's missed opportunity for stores and brands to better understand what's happening on-shelf to recapture that potential lost revenue, and Simbe is looking to bridge that information gap."
In 2015, IHL published a report titled, "Retailers and the Ghost Economy: $1.75 Trillion Reasons to Be Afraid," which discusses the significant monetary losses retailers face because of poor inventory management. Of this $1.75 trillion, $448 billion is lost annually across global retail due to out-of-stocks and empty shelves.