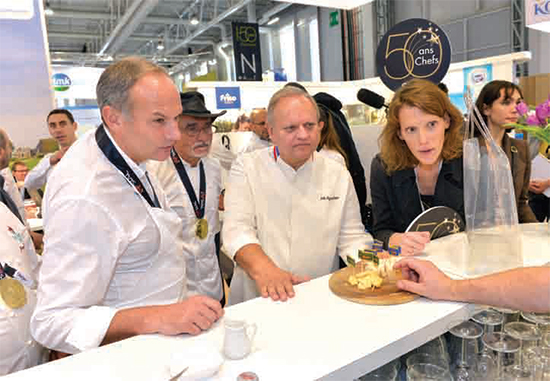 Joël Robuchon, Patron of SIALParis >>
In 2016 the foodservice industry will take centre stage thanks to one exceptional Patron – French chef Joël Robuchon: voted "Meilleur Ouvrier de France" (Best Craftsman of France) in 1976, "Chef of the Year" in 1987 and "Chef of the Century" in 1990, he has been Fleury-Michon's partner for the last 28 years and is the most Michelin-starred chef in the world (26 stars). In 2014, he participated in SIAL's "50 years, 50 chefs" operation, and this year, as the event's patron, he will be part of both the SIAL Innovation awards committee (alongside Elior and Gault&Millau) and September's press conference panel. In addition, the multi-Michelin-starred chef will speak on SIAL TV on October 16 (opening day) and set up a restaurant-themed itinerary, selecting the exhibitors' best products for a basket bearing his name.
Innovation – the DNA of SIAL Paris >>
To shine light on the most groundbreaking food industry products and provide unparalleled media coverage: This is SIAL's promise to every winner of the SIAL Innovation Awards across the world. Whether at SIAL in Shanghai, Montreal, Toronto, Abu Dhabi, Manila, Jakarta, visitors have the chance to discover selected trail blazing products at both the dedicated 'Observatory' presentation space and at conferences, as well as on stage in La Cuisine's demonstration area.
Held every two years in SIAL Paris, the competition (open to exhibitors only) reveals the most innovative products from 105 participating countries. In 2014 there were over 1,700 applicants –a 70% rise from the previous edition. The selection committee (a panel of hand-picked food specialists) chose 675 products for the SIAL Innovation Book, and the Grand Jury designated 15 winners, awarding Gold, Silver and Bronze prizes to the best three entries.
78% of exhibitors Present new Products >>
Every single one of the 160,000 visitors (perhaps even the President of France) expected at SIAL Paris (16 to 20 October 2016 in Paris Nord Villepinte) knows that this show will give them precious insight into the products and trends of the future. If 76% of professionals say they have discovered innovations here in the past, it's because 78% of the exhibitors use this biennial event as an unveiling platform for their R&D team's newest products. (Source TNS 2014)
The companies present in SIAL's Innovation area (which is frequented by around 75% of the show's visitors) see a large return on investment when their products win awards. It should therefore come as no surprise that 80% of 2014's successful candidates are entering the competition again this year.
Health goes Widespread >>
This year, watching what you eat is both a statement and a sign of sophistication, as people assert their 'food personalities' by choosing alternative suppliers, nutrientrich ingredients and 'soft' cooking methods, including raw foods. In line with this, gluten-free is becoming widespread throughout the world, with experts predicting a 3 billioneuro market for it by 2020. Vegetarian cuisine is also on the rise – largely thanks to the creativity of chefs.