ASOLO DOLCE
Asolo Dolce is an Italian Company that has been producing the highest quality confectionery products since 1972.Their cutting-edge technology enables them to take their traditional Italian recipes all over the world, matching the super competitive market of retail distribution under retailers brands and their own. They merge unexceptionable quality, with low prices, granting the highest level of food safety to our customers.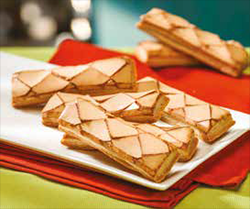 Their private label competence is their key advantage, allowing them to produce for the world's leading retailers and doing it according to the highest standard of IFS & BRC certifications.
Exporting worldwide and growing turnover for more than 45 years has only been possible because of their desire to give consumers the experience of the typical fine, Italian pastry.In order to maintain growth, sustainable production capacity is both key and mandatory, this is why in the past 2 years they have doubled production facilities raising them to the most modern standard for food safety.
Products with strong focus on Private Label:
Cantuccini (Almonds, Chocolate, Pistachio, Hazelnut, Raisin)
Puff pastries (Fingers, Hearts, Christmas Trees, Twists, chocolate covered, Cream and jam filled)
Amaretti
High Flexibility enables us to offer the best of the taste according to the specific request of Key World players.
For more information: Marica Simeoni, Asolo Dolce Spa, www.asolodolce.it.
COSMOPROF WORLDWIDE BOLOGNA

NEW DATES 11-15 JUNE 2020
The 2020 edition marks a significant milestone: the end of a decade of social, economic and political changes, and the start of a new era.
With this edition Cosmoprof Worldwide Bologna, which has been serving as a privileged window into the world of beauty for 53 years, offers an exclusive look at the major trends, technological innovations and treatments that will revolutionize the sector over the next 10 years. This special perspective will impact every aspect of the fair: guiding international operators and companies, offering suggestions, and presenting new concepts to help everyone better prepare for the challenges of the future.
COSMOPROF NORTH AMERICA LAS VEGAS

28 – 30 JUNE 2020
Cosmoprof North America (CPNA) is the leading B2B beauty exhibition in the Americas, recognized for its dynamic growth and unique programs. The event offers the entire industry an opportunity to come together, make new relationships, and foster collaborations.
CPNA serves as the premier launching pad for new beauty brands, introducing revolutionary technologies, product innovations, and new channels for distribution, packaging, and manufacturing.
DAYMON DRIVES PRIVATE BRAND INNOVATION, DIFFERENTIATION AND RESULTS.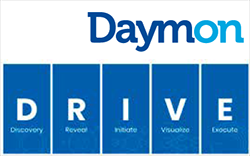 Daymon is the only solution provider that influences all aspects of Private Brand development, from strategy to execution to consumer engagement. Our unique approach helps retailers and brands set themselves apart — boosting brand presence, category effectiveness and speed to shelf.
Daymon offers a full suite of best-in-class Private Brand development services, including:
Strategy, analytics and insights
Product development and sourcing
Supplier development and management
Sales execution and account management
Design and packaging management
Whatever your needs, they can create a customized solution that delivers sales, profits and stronger connections with your shoppers.
DEUTSCHE EXTRAKT KAFFEE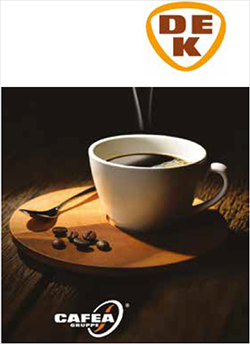 DEK is one of the leading suppliers of instant coffee and instant coffee drinks to the retail own-brand market.
We manage the whole value chain – from purchasing of raw materials, production and fully automated packaging (using high-performance machines) all the way through to distribution. Innovative product development and modern packaging design is a priority for us. Maintaining consistent, high quality is our core philosophy. Thanks to our flexible production facilities, we can supply our customers with exactly the blends they require and in a wide variety of packaging solutions.
For more information: www.dek.de.
EMERGE STRATEGIC SOLUTIONS, INC.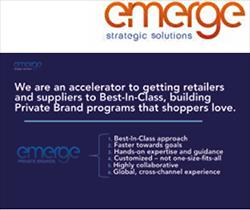 Whether you are a supplier or retailer with an interest in Private Brands, Emerge can help you to take the next leap forward in differentiating and growing your business. We are highly collaborative in our approach, and we will push you, as together we will discover the low-hanging and more aspirational opportunities for you to expand.
Building own brands and challenger brands is our true sweet spot, but we also work with many established companies/brands that need fresh thinking for their next breakthrough.
We help our supplier clients:
Build better ways to tell the unique stories of their company and portfolio
Reach and connect with new retailers, by customizing your approach
Sell more effectively; connect with the trade more effectively
We help our reatil clients:
Rationalize and optimize their portfolio, with an eye towards new segments and growth opportunities
Develop Signature products and strategies for development, all that fit who you are
Set up a true process for growing own brands and harnessing the right infrastructure
Let us put our experience with partnering in over 15 retail classes of trade and 5 continents to work for you in a collaboration that will make a difference.
FAIR TRADE USA

Fair trade is a global movement made up of a diverse network of producers, companies, shoppers, advocates, and organizations putting people and planet first.
Fair Trade USA® believes that everyone wants to do what's right – for their families, fellow global citizens, and the planet. That's why we're committed to making the right choices the most obvious ones. Based on the simple idea that the products we buy and sell are connected to the livelihoods of others, fair trade is a way to make a conscious choice for a better world. A choice for Fair Trade Certified™ goods is a choice to support responsible companies, empower farmers, workers, and fishermen, and protect the environment. In other words, it's a world-changing way of doing business.
Fair trade has grown into a leading market-based model of sustainable production, trade, and consumption. The success of core products like coffee has attracted pioneering brands and retailers in other industries including apparel, home goods, fisheries, and more. Together, we are innovating the fair trade model and creating impact for farmers, workers, and fishermen worldwide.
Today's global market enables—often encourages—compromise at the expense of farmers, workers, and fishermen. People stand with us to demand higher standards for everyone.
Income sustainability
Empowerment
Individual and community well-being
Environmental stewardship
FROSTKRONE FOOD GROUP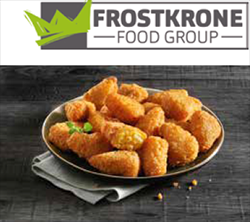 TRENDSETTER EXTRAORDINAIRE
The companies of the Frostkrone Food Group are specialised in the development, production and marketing of finger food and snack products. As an innovation driver, the Group swiftly turns trends into products for the market and consumers. Besides the huge selection of top quality finger food and snacks, customers also appreciate the purposeful advice given. The Frostkrone Food Group develops concepts and promotions for partners in the trade and food service branch, thus offering variety and ramping up willingness to buy.
The Frostkrone Food Group comprises the Germany-based frostkrone Tiefkühlkost GmbH and Bornholter Käsevertriebs – und Produktions GmbH, the French companies Varenne Gastronomie and Piz`wich Europe and the US-American business Rite Stuff Foods Inc. The Frostkrone Food Group currently employs over 600 people.
The wide, varied selection ranges from dainty, deluxe finger food specialities, produced by Varenne Gastronomie, through trendy snack ideas from frostkrone, exquisite creations of cream cheese from Bornholter right up to practical Pizza Pockets for oven and microwave from Piz`wich Europe. And Rite Stuff Foods rounds things off with a huge selection of potato snacks.
Products of the Frostkrone Food Group are available throughout Europe, in Asia and the USA.
GRUPPO GERMINAL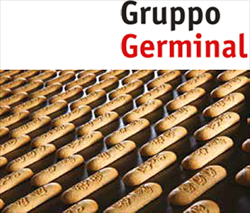 A HISTORY OF QUALITY AND CARE
Quality, safety and care are the pillars of Gruppo Germinal which has been working in the organic industry for over 40 years, becoming a benchmark in this field. Gruppo Germinal is based near Venice, Italy, and manufactures premium quality organic products, also for specific nutritional requirements such as gluten free, vegan and baby food.
As one of the largest 100% organic manufacturers in Europe, Germinal offers a wide range of products: sweet and savoury bakery, completed by a full range of glutenfree pasta and breakfast cereals. Gruppo Germinal also has a factory for the production of ready meals, all organic, vegan and gluten free.
All organic products made without colouring agents, preservatives, additives and GMOs.
The base of authentic organic are high quality traceable raw materials for a superior taste. A reliable, solid sourcing and supply chain are critical for the production of real organic food. For example, Germinal has set up a guaranteed and certified short production chain for flour supplying with the farmers and mills, such as the spelt with the fields located into Ferrara area (Emilia-Romagna region) or rice, exclusively grown in the north of Italy.
Traceability and transparency are fundamental for the company and are reflected in more than 15 third-party certifications, long-lasting relations with suppliers, total control of the supply chain and high food safety standards (more than 5,000 analyses/year are performed by accredited laboratories on raw materials and on final products). All packaging materials are 100% recyclable.
GLOBAL TISSUE GROUP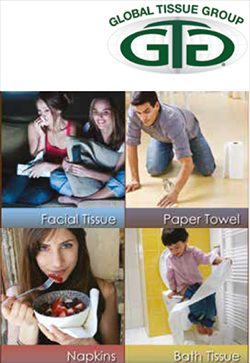 Global Tissue Group ® has fostered a reputation for providing value for our customers as their private label paper manufacturer for bath tissue, facial tissue, napkins and paper towels with customer service to each and every one of them. Our customers depend on our flexibility, confidentiality and quality, from paper products to services; from our specialty paper manufacturing capabilities and consistent supply to custom-tailored private label programs. Our goal is to ensure that no matter your needs, Global Tissue can deliver.
In creating diversified household paper products that cater to every market category, you can feel confident putting your label on our goods. We bring the trust and comfort of our relationship to your consumers, who will grow to depend upon our standard of manufacturing excellence – and your brand, through our private label programs, contract manufacturing, or our control brands. This is what sets us apart from our competition. Global Tissue provides value, quality and consistency, and helps organizations like yours increase their revenue. Let us enhance your paper program and your margins. Be a part of our Strong A.R.M. program, and Attract consumers, Retain them and create Margin enhancement every day.
LA DORIA S.P.A.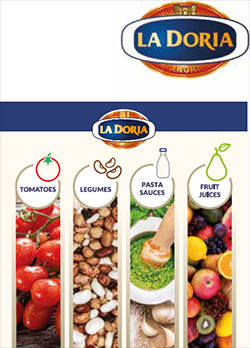 La Doria, established in 1954, is an Italian leading corporation in the canned food sector and particularly in the production of tomato-based products, pasta sauces, canned vegetables, fruit juices and beverages. Today the company is the leading European producer of canned vegetables and tomato-based products (peeled and chopped tomatoes) in the retail segment, the first producer of pasta sauces under private labels and one of the main Italian producers of fruit juices and beverages.
A LEADING POSITION ABROAD
The company can also boast leading positions on some demanding foreign markets such as the UK, Australia and Japan. It ranks first on the English market of tomato- based products and baked beans under private labels. La Doria is a major supplier for mass market retailers both in Italy and abroad, and is specialized in the private labels sector, or the supermarket's brands.
LA DORIA S.p.A.
Via Nazionale, 320 – 84012 Angri (SA) – Campania – Italy
+39.081.5166111
www.gruppoladoria.it
LE BONTÀ'S NUOVA TERRA

Le Bontà was founded in 1994 in Prato, in the Tuscan hinterland, with the aim of creating sauces, meat sauces and patès that express the best Tuscan gastronomic tradition. In 2011, the giant Drogheria&Alimentari, leading herb and spice company, purchased Le Bontà, which expanded the productive force of the Tuscan brand while still integrating its rural and genuine identity. In 2012, the brand Nuova Terra, a valuable player of the cereal, legume and seed market was purchased.
NUOVA TERRA: A NEW BRAND IDENTITY FOR AN INNOVATIVE RANGE.
The Carapelli and Barbagli families continue to invest in Nuova Terra, a historic brand and one of the most important players in the soup, cereals, legumes and seeds sector.
The innovation of Nuova Terra is seen through the restyling of the packaging: a new contemporary, distinctive graphic image capable of telling the different stories of the brand and giving strong visibility to the new logo that is both modern and traditional but strongly linked to the earth and its elements and which speaks to the evolution of the brand towards ever increasing solutions that fits the needs of the consumer.Today Nuova Terra is close to the consumer but also to the planet and to the theme of sustainability: the new packaging is 100% eco-sustainable with a totally recyclable paper wrapping.
LUCART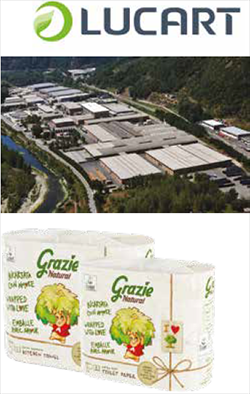 The story is about Lucart: more than 65 years' experience have enabled the company to develop the know-how and technology to meet market and environmental demands with quality products. This journey has taken Lucart to its position as a European key player in all the markets it operates in. The group will continue to invest in technological research and in reducing its environmental impact, in order to create quality products that will benefit producers, distributors and consumers alike.
Today, it has a production capacity of around 395,000 tonnes per year, split among 12 machines for paper. Thanks to its eleven manufacturing plants located in Italy, France, Spain and Hungary, Lucart is one of the key partners in the tissue industry in Europe.
The three business areas (Consumer, Away from Home, and Business to Business) pursue the same objectives: to create cutting-edge products to meet the continued challenges of the market, to offer quality products and services, ensuring transparency in its relationships, respecting people and striving for continuous improvement.
Since 2018, Lucart has been part of the CE100 network, the pre-competitive innovation program designed by the Ellen Macarthur Foundation to give organizations the opportunity to develop new opportunities and achieve their circular economy goals as quickly as possible.
MBD
Marketing By Design
A company is only as good as the people working in it and we're blessed with a team of multi-talented individuals – combining skills in brand strategy, brand design, package design, artwork rollout, and project management. Our goal is to deliver creative value and commercial solutions to our clients in the retail and CPG space.
With offices in virtually every time zone, we never sleep! Boston MA • Phoenix AZ • San Diego CA • Shenzhen China • Leeds UK
www.mbdesign.com
Workflow By Design provides a cloud-based Total Workflow Solution that helps Enterprise teams – from Creative Services to Artwork Production – get products to market faster by bringing structure to chaos while allowing innovation and creativity to flourish. We deliver an automated workflow for the entire lifecycle – from project request, team communication, electronic routing approval, and file release, through archival and reporting. We recognize that ease of use, efficiency, and accountability are paramount to success, and keep this at the center of every implementation.
The Total Workflow Solution is flexible allowing each company to undertake as much or as little as they desire at launch. We are a team of industry experts that deliver client-based solutions, custom configured to fit your creative services, marketing, artwork production, and private brandteams.
MASSIMO ZANETTI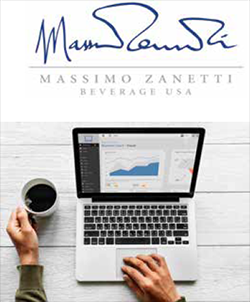 Insights Drive Sales
Understanding the consumer is vital when determining your next step to reach your company goals. With coffee being the second most traded commodity in the world, data management and analysis is imperative. Keeping track of coffee trends can lead to a more fact based decision that will increase sales. A retailer that is armed with a clear understanding of the consumer ultimately will be more proactive.
Shopper insights requires detailed study of factors that influence the shoppers' perception and behavior in store as well as online. Combining shopper data along with sales data creates a powerful understanding of factors and influences that drive a shoppers' behavior. There is value in understanding why consumers buy what they buy. At Massimo Zanetti, we pride ourselves on not only a valuable partnership but a team member that will reach consumers and grow sales.
Experience coffee at its best! Let Massimo Zanetti Beverage provide your store brand with the right coffee for your shopper. Leverage actionable consumer insights and convert more grocery shoppers to coffee shoppers.
OKA PRODUCTS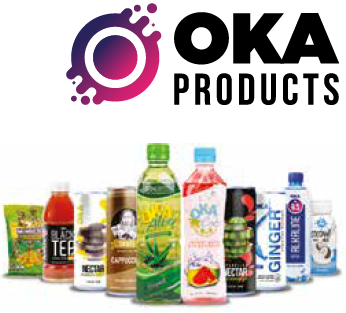 OKA Products has over 18 years production and distribution experience in the beverage and food industry. Our high quality portfolio of brands offers the most healthy product options at the best possible prices.
Retailers successfully sell OKA Products 10-20 percent below the cost of competing brands and still earn up to 20 percent more profit. For this reason, it is no surprise OKA Products is quickly becoming a leader in low-cost, healthy, private label product development.
"Making healthy, high-quality products accessible to all."
There has been a significant increase in the demand for healthy beverages and snacks as more and more people search for a better quality of life. This market was valued at $1,548 billion in 2015, and it is estimated to grow at a compound annual growth rate (CAGR) of 4.4% to reach $2,090 billion by 2022.
Avihu Schumacher, CEO / avi@okaproductsofficial.com
Sandra Blanco, COO / sandra@okaproductsofficial.com
(+1) 786 547 4447
PARAMOUNT ROASTERS
Paramount Roasters is an employee-owned company based in Lansing, MI in their 85th year of business. Founded in 1935, Paramount has a rich heritage of meticulously roasting coffee, exceptional customer service and technical expertise.
Paramount holds a SQF Food Safety Code for Manufacturing certification and is additionally certified in the following programs: USDA Organic, Fair Trade USA, Kosher, UTZ, Rainforest Alliance, and Swiss Water Process.
Paramount services all facets of the coffee industry from retail, mass merchandisers, convenience stores, office coffee distributors, and beyond. With capabilities in premium bagged coffee and single serve coffee kcups- Paramount Roasters can help to grow your private brand coffee program in this competitive retail market.
Please reach out to Kara Miencier or Lindsay Penberthy for more information. The Paramount team looks forward to the opportunity to work with you!
PLMA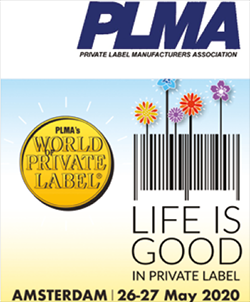 The Private Label Manufacturers Association (PLMA) is a nonprofit organization founded in 1979 to promote private label. It is the only organization of its kind, representing more than 4,400 member companies around the globe. Membership ranges from multinational corporations to small family-owned companies. Their products include food, beverages, snacks, health and beauty, household and kitchen, DIY, and personal and leisure products. Some manufacturers only do private label. Others are well-known brand makers who also have private label operations.
PLMA presented its first trade show in the United States in 1980, its first trade show in Europe in 1986 and its first trade show in Asia in 1994. Today, it provides services to member manufacturers in more than 70 countries. In addition to two annual trade shows in Amsterdam and Chicago, PLMA also offers conferences, a news channel, executive education programs, market research, studies and publications.
RED GOLD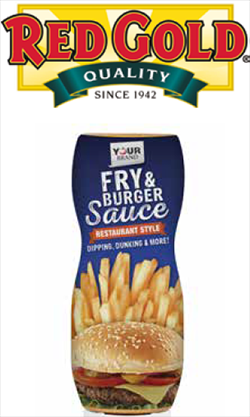 For four generations, the Red Gold family has been working with local farm families to grow the highest-quality best tasting tomatoes in the world. Starting as a father and daughter simply trying to help their country – it's now become a full time operation with over 50 partnerships with Midwestern growers. The Red Gold family story begins in March of 1942 when the government asked citizens to step up and help the war effort by supplying food for our troops. When Grover C. Hutcherson heard this message, he and his daughter Fran purchased and rebuilt an old abandoned cannery building in central Indiana. The cannery had been destroyed on three separate occasions by fires and a tornado but they managed to rally the community and persevere.
At Red Gold we believe developing a successful Private Brand business requires more than applying your logo to a label. We know consumers re-purchase a Private Brand when they are confident they'll consistently receive a high-quality, national brand equivalent product. Our Private Brands Division is focused solely on Your Brand. We provide the quality and variety that your customers demand. By leveraging our value-added services, we help you build your sales and profits.
SENECA FOODS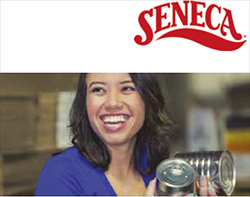 Seneca Foods ensures US farm fresh goodness through our 26 facilities located in prime American growing regions. A leading global provider of packaged fruits and vegetables, Seneca's flexible packaging solutions meet evolving consumer needs: from traditional cans and frozen foods, to convenient pouches and plastic cups. Organic options also available.
At Seneca, we believe that everyone deserves year-round access to great-tasting food that's also great for you. That's why we're bringing families and organizations all over the world real food that's nutritious, affordable, and delicious.
By remaining committed to those we serve, we're going to continue growing as the leader in the fruit and vegetable industry. At Seneca, we're still doing things the way we always have- the right way.
Think globally, grow locally. We're proud to say, "We feed the world."
V LABEL ITALIA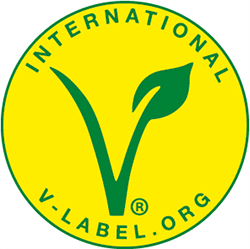 V Label Italia is the owner and the entity responsible for assigning the V-Label brand in Italy, China, the United States, the Republic of Korea and, beginning in 2020, the United Arab Emirates.
The V-Label brand was founded in 1977 as an institutional trademark of the Italian Vegetarian Association and has since that time been distinguished as the vegetarian and vegan brand par excellence around the world.
Registered in more than 70 countries around the world, it is currently the vegetarian and vegan brand name most recognized by consumers internationally.
Having become synonymous with transparency and assurance, it is presently the brand most used to identify products and services suitable for the vegetarian and vegan lifestyle. Whether applied to food, beverages, cosmetics, textiles and accessories, footwear, catering or publishing, the brand is a recognized name, valued both by manufacturers and by consumers in today's international marketplace.
Despite its widespread use, the V-Label brand has maintained high-quality standards due to its clear and transparent criteria being applied internationally by major vegetarian and vegan associations, who ensure that the standards are met.
The brand is divided into three distinct categories: vegetarian – vegan – raw vegan, allowing consumers to purchase with confidence, knowing that their selections are perfectly in line with their lifestyles and have been subjected to detailed inspections and quality controls by industry experts.
Would you like to receive more information about the V-Label trademark?
Visit our website www.vlabel.org or write us at segreteria@vlabel.it or us@vlabel.it
Come and visit us at Cibus Parma, Pad. 07 booth C129
VELOCITY
MAY 11 – 13, 2020 | CHARLOTTE, NC
360 Degree View
We understand that Private Brand is more than just Margin and Manufacturing. Don't get us wrong – we cover those. But Velocity is highly focused on the topics that will help private brand WIN: Strategy, Innovation, Customer Insights, Differentiation, Advertising, Branding, and Design.
Purposeful Networking
I magine the possibilities when the best of the best exchange information at more than a dozen sessions and events. Your next great client, hire, or ally could be at the networking break, lunch or cocktail party.
World Class Speakers
Speakers are senior retail executive, best-selling authors, and world-renowned thought leaders, helping us become the premier private brand conference. Each pushes boundaries and are passionate about delivering inspiring, engaging, and entertaining presentations. Who's our keynote? All of them.
WOMEN IMPACTING STOREBRAND EXCELLENCE (WISE)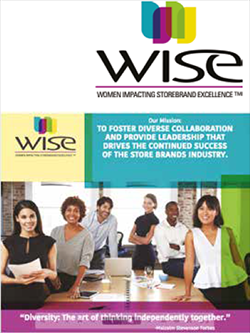 Mission Statement
The mission of Women Impacting Storebrand Excellence (WISE) is to foster diverse collaboration and provide leadership that drives the continued success of the store brands industry.
Who We Are
Women Impacting Storebrand Excellence™ (WISE) is a non-profit professional development organization, founded by women, to champion the power of diversity and inclusion which drives profitable growth within the store brands industry.
Italian Suppliers Lead the Way in Sustainable Initiatives
Asolo Dolce

Asolo Dolce has always believed that great products come from great sources, and clean energy is one of them. They have combined tradition with innovation by investing in a Photovolaic System in both the production plants, 350KW per Asolo (Tv) and 100KW per Rignano sull'Arno (Fi).
This investment has greatly reduced the impact of the company on the environment, and is going to be expanded in their future plans.
In order to attain their vision of making traditional Italian products in a high tech facility that respects the environment, they plan to reduce the consumption of non-renewable sources to a minimum.
In 2016 Asolo Dolce obtained the CONAI award for the packaging used in the production of its delicious biscuits. The contest rewarded the companies with the following average features: 19% savings of CO2 emissions in the atmosphere, a reduction in energy consuption of 18%, and in water savings of 22% compared to the market.
These and other real actions are taken to assure a better future for our children and theirs.
La Doria S.p.A.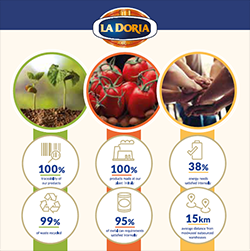 La Doria core values that are the driving force behind the company include considerations such as legality, ethics, openness, honesty, workers' rights, respect for the environment, and the improvement of land.
The Company believes in responsible management of the supply chain, so follows strict rules that are consistent with its commitment towards productive sustainability and corporate responsibility.
La Doria works with a strong commitment to reducing the impact of business on the environment and to managing energy resources sustainably; to optimizing production processes to reduce waste and inefficiency; to working alongside farmers' organizations to promote tools and solutions that ensure that farming is done efficiently and sustainably; to maintaining high levels of food quality and safety; and to improving the health and safety performances of workers. It strives to increase the use of sustainable packaging, to improve the development of human resources and to promote the circular economy.
To discover more about La Doria's commitment to sustainability find its Sustainability Report at www.gruppoladoria.it/EN/csr/sustainability-report.
Lucart S.p.A.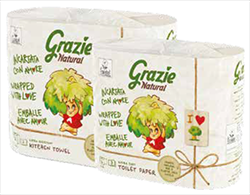 The sustainable innovation is born from the collaboration between Lucart and Tetra Pak. The consistent and innovative path taken by Lucart has made the company a point of reference for eco-tissue. In 1998, it was the first company to launch a recycled paper brand, which has evolved into the Grazie Natural range, a symbol of the circular economy. Paper obtained by recycling cellulose fibres contained in drink cartons. Lucart's production process separates vegetable fibres from polyethylene and aluminium, which the company ships for re-use in manufacturing of products such as pallets, stationery, and even mooring poles used by gondoliers in Venice.
Grazie Natural has EU Ecolabel and FSC Recycled certifications; it is sustainable not only for being tissue from recycled paper, but also for the use of paper packaging, as it drives forward research on recycled plastic packaging that will soon be available in the market.
V-LABEL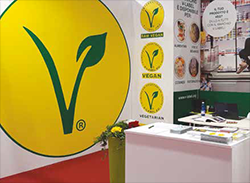 The V-Label brand helps companies to identify their products as suitable for vegetarians and vegans in order to meet the growing demand of consumers who, in turn, welcome the comfort, assurance, guarantee and assistance provided when selecting sustainable products suitable for their needs. The task of the V-Label brand is to help companies to achieve visibility for their vegetarian and vegan products, increase the amount of these on the market and ensure quality standards for end consumers.
Eating in a more sustainable and responsible way is feasible, possible and necessary. Eliminating or reducing meat, fish and animal-derived products is not impossible.
The hands of the Doomsday Clock are dangerously approaching midnight, with only 100 seconds left until humanity's self-destructive end. This instrument takes into consideration various factors, such as threats of war along with relative nuclearisation and climate change, which contribute to reducing our chances of survival.
Temperatures are rising, ice caps are melting causing a rise in sea levels, the planet is on fire from Siberia to Australia, and from the Amazon to the Canaries, and increasingly violent and unpredictable climatic phenomena are punctuating long periods of drought.
What if all this could be stopped or, stemmed, by what we put on our plates?
Producing one kilo of meat requires the use of 15,000 liters of water compared to just 3,000 for a kilo of wheat; a hectare of land intended for cattle breeding can feed 22 people instead of just one if it is used to grow potatoes, and about 14 % of all greenhouse gas emissions from humans result from intensive farming.
Being vegan or vegetarian doesn't necessarily mean being sustainable, but vegan and vegetarian lifestyles certainly are. Reducing our consumption of meat and animal-derived products would help us to gain precious seconds and move the hands of the clock back. Change is needed: if not now, when?
Respect life. Inspire the change. This is the mission of V-Label Italia, because it is necessary to create awareness to create change, now more than ever.
Molino Nicoli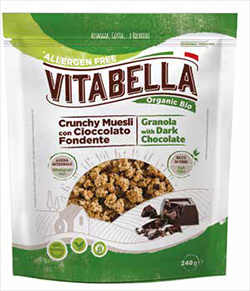 Molino Nicoli received an ISM award 2020 as "Best innovative product breakfast cereals" for – Vitabella allergen free oat granola with dark chocolate – packed in innovative recyclable paper.
For Molino Nicoli, sustainability is dayby- day improvement, their sustainability pillars are:
1 Photovoltaic Systems in place generating green energy for 25% of their total energy consumption
2 Eco-Packaging:
95% certified recycled paper
eco-sustainable inks used

secondary packaging 100% recyclable
new project for replacing plastic bag with compostable /recyclable material
They use recycled paper packaging certified by Aticelca 501, which provides a second life to their packaging.
Why use laminated in paper?
They use Kraft paper: 100% natural and renewable; allowing them to sustain the decisions taken during the Climate Change Conference- Paris 2019, to reduce the use of fossil raw materials and trying to obtain the most Circular Economy possible.
Kraft paper is recyclable: excellent source of fibre for recycling industries; its long and strong fibres can be recycled several times. The recycling rate of paper in Europe is 72.3%.
Their pack is also certified FSC – Chain of Custody, CoC – It ensures the traceability of the materials coming from FSC-certified forests and it is essential to be able to apply the FSC labels on the products.