BY DENISE KLUG, SENIOR RETAIL ANALYST, LZ RETAILYTICS
Grocery e-commerce may be turning various established retail habits upside down, but it seems impossible for this format to neglect private labels. From LZ Retailytics research it has emerged that grocery online has the second highest private label penetration of all channels across Europe, after the discount channel. The share is mainly driven by physical store operators running online shops. These retailers have a clear competitive edge as they can draw on their existing expertise, managing sophisticated and well-established grocery private label lines. This is an advantage that they should further cultivate at a time when retail disruptor Amazon is still in its infancy in the segment.
Grocery e-commerce has emerged as the channel with the second highest private label penetration in Europe. Our Senior Retail Analysts' assessment of more than 1,200 banner operations in the LZ Retailytics database has revealed that the average share of private labels in the channel across Europe has even slightly outstripped the average for supermarkets. On a scale from 0 (no private label) to 10 (over 90% private label), grocery e-commerce scores 3.19 points (translating to a share between 20 and 30%), compared to 3.14 points for the supermarket banners. Own brands continue to be an important tool to showcase expertise in the food category and are clearly demanded by European grocery shoppers, making these ranges indispensable for both online and offline grocery retailers.
It also seems that those customers that shop online for groceries are also the ones particularly searching for standard, premium and added value lines as these account for the majority of own brand goods offered via the web. Online shops benefit from these margins while offering unique products that differentiate them from competitors and make direct price comparisons more difficult. Physical Stores
Physical Stores Lead the Pack
The high private label share for online grocery has been driven by the channel leaders – the online shops of the bricks and mortar full-range retailers – translating their experience and expertise to the online world. They have always relied on private labels to create a USP, as well as drive margins and profits in a challenging segment. In doing so, these retailers have also shaped European online shoppers' expectations, leading to their strong demand for private label alternatives.
Physical store operators have set the benchmarks for own brands, which are taken for granted by shoppers, both offline and online. Consequently, online pure players have plenty of homework to do, including so-called disruptor Amazon. This is interesting as the e-commerce giant usually sets channel-wide standards being one of the most innovative retail companies of the world. At the same time, it would perfectly fit to its strategy to offer the world's biggest assortment, allowing it more independence from its retail partners and more power when negotiating with suppliers.
Amazon's Challenge
Slowly, category by category, the grocery newbie is adding ambient food products to its private labels Amazon Fresh and Wickedly Prime and establishes new labels like Happy Belly for confectionery, Presto! for household goods or Mama Bear for baby care items. In the UK and US, it has listed Whole Foods own brands, this acquisition was helpful in gaining more food and private label expertise.
So far, most of the private labels available at the platform Amazon Fresh are supplied by local physical retailers. It is set that Amazon Fresh will eventually replace at least some of these third-party products with its own as it is striving for independence; all under one roof solutions; and tools to increase pressure on its brand suppliers. Own brands are also needed to create the 'one-stop shop' that Amazon aspires to. Currently, however, physical grocers still have a clear competitive edge as they can do private label management blindfolded. This is an advantage that they should continue to cultivate once Amazon Fresh really takes off in their home markets. Emphasis should hereby lie on standard, premium and added value private labels. A shift of focus that comes naturally as these tiers provide higher margins.
Profitability is anyway a huge pressure in the channel and particularly in price-aggressive markets, most retailers do not really want to sell economy private label mineral water or toilet paper online. As a result, in these countries, the value brand alternatives in these categories are sometimes not even offered online.
Value Lines Have Become Less Relevant
At a Western European level, umbrella economy lines have drastically lost their appeal. The reason behind this is not only the rise of grocery e-commerce but also the mega trend that is supermarketisation of the discounters.
In general, the economy private label tier has always been the least attractive one for full range retailers like supermarket or hypermarket operators. Most players literally hid them away on the bottom shelf. Margins for these ranges are low and the sole reason for their existence was to provide a low-price option mainly to lure away shoppers from rapidly growing discounters. However, it turned out that this was not really a successful strategy.
Discounters have been able to provide goods at low prices thanks to their efficiency, reduced assortment and high rotation of the individual products. Full-range retailers have never been able to replicate this in their stores while still offering the merits of their formats. Players such as Carrefour in France have shifted instead to offering price cuts on branded goods and taken the decision to drastically reduce economy private label lines. Not only in terms of facings on its shelves but also from a design perspective by cutting its retail brand name from the packaging. Competitor Système U went even further by discontinuing its entire value own brand range. And this is not a purely French phenomenon. Dutch market leader Albert Heijn (Ahold Delhaize) seems to have started to slowly replace its AH Basic value line with its standard AH label. The fact that the leading economies in terms of gross domestic product have slowly recovered from the economic downturn could also have had an impact on this development.
Increased Investment in Standard and Premium
At the same time, most full-range players have heavily increased investments in standard and premium tiers. Sainsbury's in the UK launched 185 new food lines for Christmas, almost half of which were in their premium range. Italian retailer Unes boosted sales of its premium line Il Viaggiator Goloso by 63% in 2017. The range now accounts for 12.1% of total turnover. To push this range, the Finiper subsidiary launched a dedicated store concept exclusively selling own brand products. This
is a strategy several other players followed including Coop Switzerland, which opened a store dedicated to its vegetarian private label Karma.
To narrow the focus onto lines with higher margins surely makes sense. In times of supermarketisation the need for economy labels has been significantly reduced. The private label share of the channel is in decline mainly due to Aldi listing more and more manufacturer brands. This move has created a serious threat for full range retailers who, backed up by their standard and premium ranges, have picked up the gauntlet. These products are ideal tools to differentiate but also to put pressure on suppliers as they directly compare with their brands. For instance, when Intersnack decided to get listings at Aldi, Edeka responded by replacing some of Intersnack's facings with their standard own brand equivalents.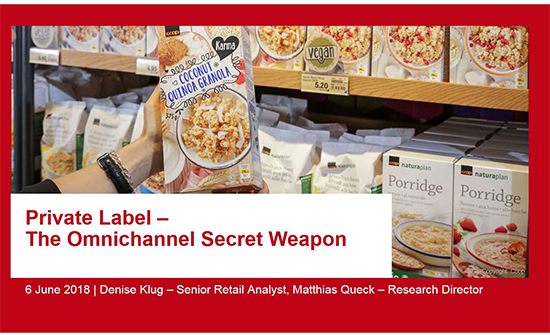 It is very likely that we will see more of this in the near future. As long as discounters continue to become more like supermarkets and as long as grocery e-commerce continues to grow rapidly we will see increasing competition within all channels in standard, premium and added value lines.

About LZ Retailytics
LZ Retailytics is an international retail analyst group supporting the grocery retail and consumer goods industries with insightful information, data and analysis to facilitate business planning and decision making. The group delivers these insights in the form of an innovative, fully mobile-enabled digital product as well as through workshops, inhouse trainings and advisory projects. LZ Retailytics is part of Lebensmittel Zeitung (LZ) the leading trade and business newspaper for grocery and consumer goods in Germany.
You can learn more about this topic in the LZ Retailytics Webinor Private Label -The Omnichannel Secret Weapon. This will take place on Wednesday, 6 June, 11.00 cm CET. For more information and registration please refer to contact@retailytics.com.