By / denise KLUG , Senior Retail Analyst, LZ Retailytics
Poveri ma Ricchi' or in English "Poor but Rich" is the title of a movie that was shown in Italian cinemas in December. For us, the most interesting fact about this movie is that it was not only sponsored by discount store operator Lidl but also partly shot at one of its stores. In the film, the situation of a cash-strapped family of a young Lidl employee radically changes when one of the family members wins EUR100 million. As their world turns upside down, the down-to-earth Tuccis family becomes the focal point of comical moments as they try to understand upper-class society.
The entire storyline perfectly reflects a credo of the young European generation and the blending of lifestyles: Poor but Rich – or in a broader sense: Poor but Sexy, Cheap but Fashionable, Affordable but Trendy. A credo that retailers could profit from incorporating into their private labels.
Hipsters but not Yuppies >>
While young adults thirty years ago enjoyed higher earnings than the national average, Millennials (those born between 1980 and the mid-90s) cash in 20% less than their average compatriot, according to the Guardian's analysis of data from the LIS salary data centre. The results are due to a "combination of debt, joblessness, globalisation, demographics and rising house prices", the newspaper suggests.
While Millennials may not earn as much as their parents did at the same age (when compared with the average), this does not mean that they neglect trends but rather that the concept is evolving. Irony has become more fashionable than ever. Price-aggressive retail chains have unintentionally become trendy cult brands. Hipsters with Aldi or Kaufland shopping bags sporting a man-bun and moustache are now anything but a rare sighting in European metropolitan areas.
The young trendy shopper is clever and has long understood that there is not always a need to buy higher priced manufacturer brands when there is a comparable private label equivalent. At the same time, retailers are trying to get even more of these young people into their stores by recruiting celebrities as private label ambassadors.
A budget piece of Hollywood >>
Spar Austria has been one of the pioneers in this regard. The company has even hired Hollywood stars such as Gwyneth Paltrow or more recently Pierce Brosnan to endorse their private label lines. Discounters in particular seem to have been inspired by Spar's marketing initiatives. These appear to be adequate tools to support the current trend of supermarketisation across the channel and attract younger shoppers with a little bit of glitter. However, the truth is that discounters are still no-frills, price aggressive and have a reduced assortment which might lead to unpleasant scenarios for the celebrities.
Last year, Aldi Süd in Germany decided to sell private labels conceptualised by popular fashion and jewellery designer Jette Joop. What sounded like a glamourous idea at first, failed to translate instore. The designs of Jette were staged the usual Aldi way: first wrapped in plastic foil and then thrown into wire baskets.
Similar scenario at fellow discounter Lidl. In many of its international markets, it offered a private label hair care range by Britney Spears as well as a similar Paris Hilton collection. In both cases, Lidl first proudly showed the faces of the respective it-girl in its leaflets and then moved the remaining hair dryers and curling irons to rummage boxes with sharply cut prices (up to 60%) when it was time to move on to the new weekly promotion.
For celebrities and licensers targeting the price-cautious young cash-strapped shopper, it might sound like a good idea to co-operate with price-aggressive retailers. Even if they have invested in store modernisation and range expansion, discounters continue to stick to their core principles. More often than not, this could have an impact on a product's visibility and promotional execution and could in the worst case lead to damage of the brand image.
In search of affordable lifestyles >>
In contrast to the previous equipment driven consumption habits of their parents, Millennials find themselves arriving in a finite world, with less disposable income. This drives the need to give meaning to their consumption, which, combine with their acute sense of trends and fashion, is a perfect paradoxical balancing act between sustainability and ephemerality.
An interesting example case is veganism. We have also seen many vegan products being delisted after initial tests, dedicated private label lines being discontinued or refocussed on vegetarian products with dairy and egg ingredients instead. At the same time, many trendy vegan restaurants and cafés in European cities shut down. It might be true that the number of vegans is in decline, but has the segment really died out?
In Germany, co-operative giant Edeka reportedly got into a dispute with vegan specialist Veganz which supplied the market leader with their private label goods. Main point of dispute was that Edeka reduced the initial offering of 300 to 100 Veganz products. One explanation could be the high price perception of Veganz items (particularly in comparison to the ingredients' cost), that might have triggered Edeka's independent shopkeepers to reduce the assortment or stop it completely.
While a frozen Veganz pizza is sold at nearly EUR5, discounter Lidl wowed German vegans with the launch of a heavier vegan pizza at a smashing price of EUR1.11. It was sold out at launch day and the discount store operator decided to list it permanently at EUR1.25, turning the product into a magnet for hipsters – and potentially the Italian Tuccis family.
Have vegans disappeared? No… but their shopping habits have changed. Gone are the days when they were pleased simply at the pure existence of a convenience snack suitable for their diet and bought it any price. Now that Lidl has proven it is possible to sell a similar pizza with similar ingredients at an incredibly lower price, it will be very difficult to get customers back to the point where they were willing to spend more.
Quest for novelties boosts innovation >>
Being price-conscious does not mean that Millennials are not looking for innovation. In fact, this has become more important than ever to satisfy young shoppers' obsession with novelties. Private label vendors need to be even quicker getting new trendy items onto their shelves to replace products that have become old hat.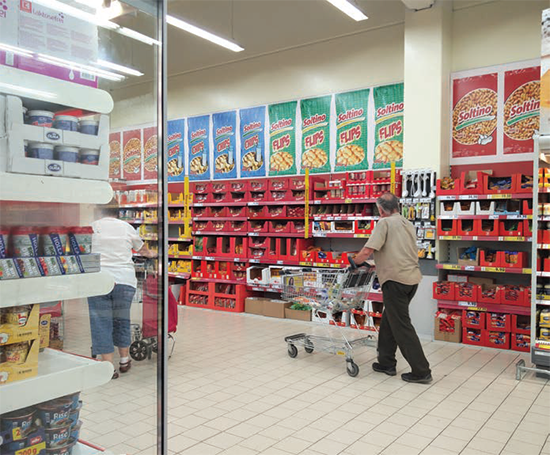 Affordable private label have unintentionally become trendy – so why not decorate a store with it? (Kaufland in Czech Republic)
Albert Heijn recently introduced new soups, sauces and curries consisting of only vegetables, spices and herbs – a nice innovation to cater for the healthy eating trend. Coop Switzerland plans to go one step further into this area. The retailer is to give shoppers not only the opportunity to benefit from essential vitamins, minerals and unsaturated fatty acids but also the chance to discover totally new flavours – by selling and producing insectbased grocery ranges. This means the retailer will be in a perfect position with its burgers and meatballs made from crickets and mealworms once the Swiss Federal Office for Food Safety and Veterinary Affairs allows advertising of foods containing insects which is set to happen any moment.
Trendy shoppers are a highly relevant clientele for private labelheavy retailers. Lifestyles have changed and this target group is not ashamed of the fact that they shop for lower priced alternatives. At the same time, they are permanently looking for innovations, trying to eat healthily, probably vegan or organic. This means, investment should be made into new products, particularly now that the lifecycle has become shorter.
This will of course make it difficult for retailers and manufacturers as margins for these items will come under pressure. It is unlikely that a great bunch of Millennials is going to win EUR100 million to give them Tucci-like spending power. However, just a few trendy own brand products could already be enough to create a hype and USP strong enough to lure the target group into a store to fill up their shopping baskets.