SGK Anthem, Vrijdag Premium Printing, Generous Minds, Neurensics, Kurz, Merck and Haval have joined forces under the name 'Packadore Collective' to design and implement both desirable and sustainable packaging solutions. Their 'Cap Off' design innovation offers a purpose driven and reusable solution for packaging closures.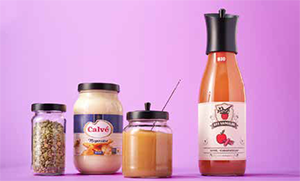 Packaging design has two main objectives; to protect the product contents through each step of the supply chain and to inform the consumer of the product benefits or intended use. Countless packaging formats include components that are either not required to fulfil these objectives or their role is limited to a singular and single use function.
Cross-category, many glass jars and bottles are sealed with a metal closure with a plastic liner to create a tight seal. Often these components are not able to be recycled due to the multi-layered materials used or indeed is too costly a process in terms of logistics and cleaning.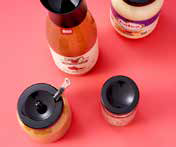 Home cleaning trigger spray bottles, jam jars and ketchup bottles all use closures only required for the time it takes to use the product inside. Many such products use the same or very similar closures across multiple different brands. When individual brand packaging components are shared in this way there's an opportunity to design a communal solution — one that is both sustainable and desirable.
'Cap Off' is a conceptual design innovation for packaging closures with a clear purpose — for purpose driven use and reuse.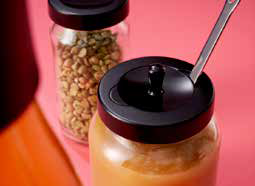 The concept envisages that all relevant brand packaging in store and online is sold with a simple top seal and that reusable caps are sold separately for use and reuse across multiple different types of products. This solution helps preserve the value of the packaging lids for far longer, helps reduce waste and cost, plus increases the recyclability of the core packaging.
Additional functionality can be built into the design of the reusable caps such as for jam jar spoons or pouring spouts for juice.
About Packadore Collective: Packadore Collective work collaboratively to design and implement both desirable and sustainable packaging solutions to help brands create real impact, now and for the future.