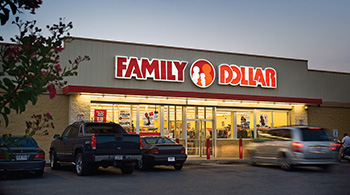 By / Sandy Skrovan Research Director- US, Planet Retail
Ongoing shifts in the grocery retail landscape, including a number of retailers developing alternative store formats, will open up new opportunities for private label development. Private label items that stand out from the crowd and cannot be easily replicated or found 'everywhere' could go a long way in drawing shoppers into the store and creating repeat patronage.
Some channels no longer 'alternative' >>
Much of future retail growth will not come from familiar places. Instead, Planet Retail projects that some of the fastest-growing retail channels going forward will be sectors once labeled 'alternative,' or categorized under an 'all other' retailing umbrella: warehouse clubs and the value channel. While retail sales throughout all grocery channels are forecast to grow at an average rate of 3.9% annually over the five-year horizon, both clubs and value retailers will outpace this level by a substantial margin.
Planet Retail expects that warehouse club channel sales will grow at an average annual rate of 4.9% through 2017, just off the past five-year pace of 5.5%. The big winner, however, will be the value channel – defined to include dollar stores, single-price retailers and limited-assortment grocers.
Valuable growth in the value channel >>
If you thought dollar stores and other value retailers have grown gangbusters during the past five years, then you "ain't seen nothing yet." Dollar sales here are projected to grow a whopping 8.4% annually during the next five years, with new unit expansion as the key driver. The channel will add 7,000 more stores in the next five years compared to slightly more than 5,000 added during the past five. This expansion will present a lot of new ways – and opportunities – for both branded and private label manufacturers to get products onto the shelf.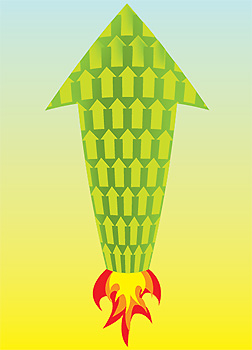 Of particular importance when doing business with these 'alternative' retailers is one of the very things that distinguish them from conventional footprints: unique and specific requirements in terms of products, pricing and pack size – with clubs requiring value-priced bulk sizes and/or multi-packs, and dollar stores in need of small pack sizes to fit low (typically USD1) price points. These needs certainly create a challenge for most national brand manufacturers, especially those unable to easily redefine production specs to accommodate special sizes and packaging. This leaves the door open for retailers to develop special and 'right-sized' store brand products to meet format-specific needs.
Less is more: small-box opportunity >>
The expansion runway for big-box retailers and large food/drug combo stores is running out. So after years of building larger and larger stores to stock more and more products, some leading retailers are beginning to realize that future success might be associated with going smaller.
Consider Walmart, for example. Planet Retail expects Walmart Supercenters to reach saturation by 2020. Therefore, the push is on to make smaller grocery concepts (e.g. Neighborhood Market) a future growth driver. Walmart aims to operate more than 500 such stores by 2015, about double the 240 Walmart operated at the end of 2012.
Also fueling the small-box trend is the expectation that an increasing amount of grocery shopping – particularly for regularly replenishable goods – will move online, thanks to programs such as Amazon's Subscribe & Save. Grocery shopping no longer will be limited to big stock-ups, big stores or even stores at all.
To adjust for consumers' changing shopping needs, today's big-box grocers might need to reconfigure their space and assortment to accommodate quick trips, immediate needs and other shopper solutions. Consequently, we will find small formats in the ascendency as shoppers favor proximity, convenience and smaller average basket sizes to meet changing household needs and evolving shopping behavior.
Key implications for store brands include the right-sizing of products and packaging to meet shopper needs and trip occasions. Tailoring the mix and adapting products to meet local market needs also will be paramount. And a growing focus on serving immediate needs and on shopper solutions rather than stock-ups signals the move toward more fresh and prepared foods – which translates into additional private brand opportunities.
A good example is Pittsburgh-based Giant Eagle, which developed the Giant Eagle Express convenience format to serve both weekly shopping trips and fillin needs. The store features a full range of fresh foods – such as baked goods, meat, deli, produce and dairy – as well as frozen foods and everyday household goods. The emphasis is clearly on offering fresh prepared private label goods. Although only two units have opened to date, the smaller format size gives Giant Eagle flexibility in opening stores, with the opportunity to enter more urban areas.
Even Kroger, which Planet Retail once conjectured was missing the small-box opportunity, now is dabbling in the space using its Turkey Hill Minit Market convenience format. Several recently opened Turkey Hill stores are more reflective of a corner neighborhood market than a c-store, offering a mix of produce, Kroger's own-brand goods and prepared items at supermarket – not c-store – pricing. In fact, the latest Turkey Hill prototype, which opened last September in Marysville, Ohio, features a new moniker – Turkey Hill Market – emphasizing the store's positioning as a neighborhood market.
Specialty concepts on the rise >>
The mix inside a Kroger-owned Turkey Hill Minit Market store reflects that of a small-box grocer, complete with fresh food and Kroger private label items.
Grocery retailing is becoming increasingly fragmented. And with big retailers growing their portfolios of store formats, we will see even more fragmented growth ahead. In addition to robust growth expected in low-price/ value formats, Planet Retail also anticipates notable gains in premium and specialty niche formats in the coming years, as retailers leverage compelling points of differentiation to carve out a niche and stand out from Walmart and other mainstream grocers.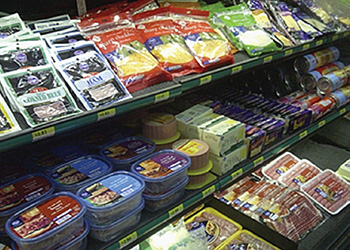 A growing roster of second-tier or regional supermarket players is opening upscale-oriented 'fresh' concepts catering to the needs of both epicureans and mainstream food shoppers. Their focus is on fresh perishables and extensive prepared meal selections, along with a good dose of specialty and gourmet items – often with store brands taking center stage.
Items that stand out, cannot be easily replicated or cannot be found "everywhere" are clear winners in this kind of environment, working to draw shoppers and create repeat patronage. A good example of this new hallmark of upscale shopping is H-E-B Central Market, where Central Market Organics and Naturals ranges originally were created to meet the needs of the upscale format. The ranges now are available at all of the San Antonio-based retailer's stores.
Emerging concept Mariano's Fresh Market, first launched in the Chicago metro area in 2010 by Milwaukee-based Roundy's, is another prime example. Mariano's resembles a boutique upscale grocer, featuring artisan bakery products, handmade candy, instore market bistros and gourmet imports. Customers may choose from an extensive selection of prepared meals, salads and side dishes, as well as imported cheeses and other store specialties that differentiate Mariano's from a traditional grocery store.
Mariano's even cultivates a loyal following of regulars who make special trips just for the retailer's chicken salad, which is made daily from the chain's top-selling rotisserie chicken. Ten Mariano's locations have opened to date, with more anticipated to come.
New concept launching pad >> Recall Walmart's four-store Marketside 'test' in the Phoenix market several years ago? The retailer insisted all along that its intention for the Marketside concept (which never took off and ultimately ended with the shuttering of stores) was to use it as a private label test lab. As it turns out, Marketside-branded products ultimately were integrated into the deli department of Walmart stores and rolled out chain-wide.
Now consider a handful of retailers doing just the opposite – actually taking a store brand and parlaying it into an entirely new store concept. Giant Eagle first introduced the Market District premium grocery line inside conventional supermarkets before launching an upscale store concept under the same name. Market District products – including such items as specialty oils and vinegars, sauces, dips and spreads, maple syrup, chocolate and nuts – tend to appeal to consumers with a more discerning palate and to food aficionados.
In 2006, Giant Eagle opened its first two Market District stores in upscale neighborhoods in its home market of Pittsburgh. Today, the retailer operates five Market District stores with more on the way, which feature plenty of gourmet offerings and prepared food creations by Market District chefs made right on premise, as well as catering and events. An extensive amount of store space is devoted to fresh perishables, produce, prepared meals and a host of surprises such as the nostalgic candy shop and specialty oil 'bar' – all with a bent toward featuring store brands.
Giant Eagle's Market District banner takes its name from the premium private label previously introduced inside Giant Eagle stores.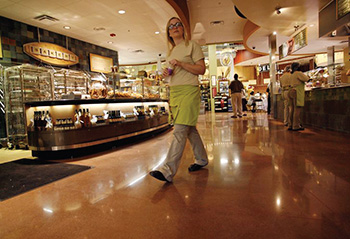 Another example is Publix Green- Wise Market – from Lakeland, FL-based Publix – where, again, the store brand actually preceded the store banner itself. The emphasis at Publix GreenWise Market is clearly private label; the retailer actually chose to introduce its own new line of all-natural meats at the Green- Wise grand opening. In addition to the healthful options the name suggests, GreenWise features an impressive prepared food area with restaurant-quality entrees, fresh meat and produce, baked goods and chocolates, along with – of course – the prominently displayed Publix GreenWise private label line.
General merchandise also is getting in on the act. The popularity of the private label Joe Fresh clothing and cosmetics line from Ontario, Canadabased Loblaw rivals that of national brand apparel and cosmetics. The success of Joe Fresh prompted the retailer to launch its first freestanding Joe Fresh clothing store in Vancouver, British Columbia, in 2010, and created the opportunity for Loblaw to cross the border, opening its first US flagship in New York in 2011. Today, the retailer operates 13 Joe Fresh stores in Canada and five freestanding stores in the United States, with future growth anticipated. Joe Fresh recently opened its first shops inside JCPenney, eventually eyeing the potential for 683 JCPenney store-within- a-store units.
Target recently used its exclusive C9 by Champion activewear brand to launch its first freestanding C9 unit located adjacent to the new CityTarget in San Francisco. Planet Retail sees the possibility for other strong private brands to follow suit.
Future private label opportunity is real >>
Future shifts in the grocery retail landscape will open up private label expansion opportunities that could help store brands break through to the next level. Ongoing value channel expansion creates the need for smaller pack sizes and value brands. Small-format neighborhood markets require new products, convenience-oriented pack sizes and different promotions than what can be found at traditional larger footprint stores. A growing roster of premium and specialty formats with a fresh and unique focus fosters possibilities for store brands, especially in the fresh and prepared meals space, to expand and excel as well. This increasingly complex environment presents many challenges for suppliers but vast possibilities for retailers.