Featuring Deborah L. English, IIDA, CCUD, Founder And President Of D L English Design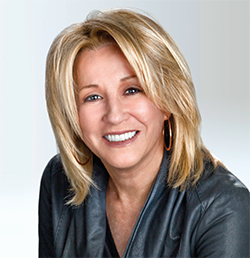 In this feature, we examine design as a vital tool for retailers by exploring some of Deborah L. English's work for leading global retailers. Deborah L. English, IIDA, CCID, is Founder and President of D L English Design, a multi-disciplinary design firm with a focus on innovative, consumer-driven experiential spaces. As a leader in designing "destinations within places," Deborah and her team develop restaurants, bars, and cafés within existing retail spaces. The sites created by English and her team defy the stereotype of a utilitarian store by integrating social and hospitality spaces. Each design allows the customer to discover new environments within the larger space. This journey presents the option of lingering and enjoying a drink or a meal, transforming the typical grocery shopping trip into a much more gratifying experience.
Given the present state of retail, we wondered what her thoughts about its future might be.
GRB.
You must be very brave to work in the Retail Design space Deborah, half the industry thinks Brick and Mortar retail is already dead, the half that killed it are building Brick and Mortar stores. The other half is just confused. What's your take on the current environment?
DLE.
Retail isn't dead. However, it is undergoing a drastic transformation, and I want to be along for the ride! It's an incredibly exciting time to be in this industry. Predictions of the death of brick and mortar (a full-scale "Retail Apocalypse") are giving way to a new wave of thinking about a much deeper dive into the creation of place, as well as the blending of tech/online purchasing within the physical store environment. In our work with Soriana, Whole Foods Market, and other grocery retailers, we've incorporated areas that invite shoppers and non-shoppers alike inward to linger for longer. In other stores, shoppers encounter Amazon experiential pods, where products, such as Echoes and Kindles, are exhibited live by expert customer service representatives.
Globally, in the grocery/food retail space, future stores may have a significantly smaller center-store footprint with more programming for sensory food experiences. Actual onsite inventory will give way to experiential moments, and more robust in-store online ordering with food and lifestyle experts guiding you to solutions that will be delivered to your door by the time you get home.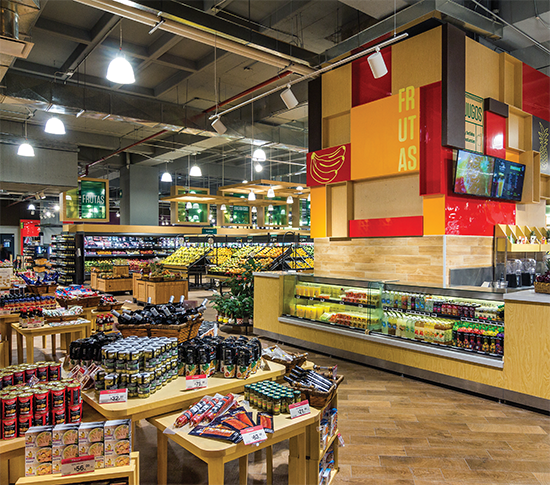 GRB.
In a previous life, I published magazines in the design industry. I was always impressed by how thoughtful, creative and functional design could add measurable competitive advantages. Yet, countless retailers seem rather unaware. My sense is that those that "get it" seek you out. But those who need it, are likely difficult to convince. Any advice for them before it's too late?
DLE.
These days, the formula is simple: if retailers don't adapt, they will fail. They will either respond to the current environment of massive shifts toward the need for experiential and online shopping, or they will go the way of RadioShack, Sears, Toys"R"Us, and many more. In even the recent past, high consumer demand for products and services allowed mediocre retailers to exist. With the success of convenient online alternatives—and a savvy consumer base that seeks a more sophisticated and involved shopping experience—this is no longer the case.
Even low-cost retailers, such as Costco, have created their own version of heightened shopper experiences through tastings and a festive marketplace sensibility. The sell on the importance of design has been easier, as many clients who seek us out already understand.Our most important task as the design firm is to accurately determine the level of design required, as played out in programming, flow, architecture, messaging, and finishes that appropriately communicate each client and brand's market approach to optimize their sales and profit potential.
GRB
Your work on Soriana's Hypermarket, Miyana Polanco, in Mexico City is simply stunning. You've created a space that I'd like to spend time in–it's a cool vibe, where products are elevated to "star" status. It's light, uncluttered, easy to navigate. Tell us a little about the process that led to this result. How much of what we see is client-driven?
DLE.
We listen intently to the client, and work closely with them, often side by side, each bringing our areas of expertise together to make an exceptional "whole" in bringing their brand values and goals to life inside the space. They communicate their dreams, wishes, and needs, and we interpret them into a living, breathing space.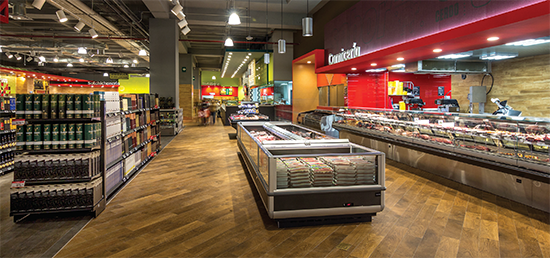 A common thread throughout all our projects is the atmosphere we create through purpose, story, and style—the meaningful integration of local culture into the space. Through design, we fuse the core values of the brand, client, and community, and bring them to life in a way that is relevant to both, thus giving a visual voice to those values inside a physical space.
Our design ethos is to push a client beyond their comfort level with visual brand conformity and to simultaneously communicate their brand's values by creating emotional counterpoints. If a client's core value is the love of food, we only care that that love shows up in a way that is relevant to the community it serves.
We create design solutions by listening to the relevant voices, and bringing them to life inside the space. Our discovery process often includes townhall-like meetings with the community to hear what they want from the project. In one example with a Hawaii-based client, we approached the project prioritizing the themes of sun, surf, and sand. However, through public meetings, we found out that what the community desired was shade, shelter, and a rainforest motif.
For our projects, we explore the communities and create an open dialogue with its members to discover what they want and need. Much of the research we do is observational in nature. We conduct a deep dive, observing what locals value, how they live, their distinct regional food culture, as well as what we can bring to the community.
GRB.
Speaking of the client, how are they measuring the success of this project based on their strategic goals?
DLE.
One way that Soriana measures success is by how much they have expanded their reach beyond their historic shopper base. Through effective and efficient design, we widen the psychographic, demographic, and socioeconomic draw to capture market share by appealing to a wider range of shoppers and communities. In addition, Soriana originally sought to recapture market leadership of the hyper- and supermarket space (the hearts and minds of the shopper community) in Mexico, as well as by being the clear, best-in-class retailer in every key category.
GRB.
How have Soriana's customers responded?
DLE.
By all measurable indicators, the reinvigorated brand has soared in the remodeled Mexico City and Monterrey locations. Foot traffic, sales, profit, and brand perception have all seen significant and sustained increases. Due to increased demand, we have made some adjustments to certain fresh food categories to provide self-service to shorten wait times and increase shopper accessibility.
GRB.
Finally, what's the recipe for a successful design project in today's evolving retail environment?
DLE.
Primarily, a strong, open connection between the client and design team is key. It is critical to keep the design team involved. A client that values and respects the design solutions made by the team throughout the project's lifespan contributes greatly to positive outcomes. We have seen higher rates of success in cases where all parties involved are kept well aware of major design decisions. Other elements critical to successful design in today's retail environment are keeping an open mind to innovation, the ability to remain nimble to design changes, and intelligently planning with a set budget.