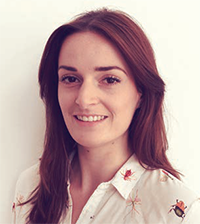 HOPE MASSEY, CLIENT SOLUTIONS SENIOR ASSOCIATE, EMEA, SGK /
SmartLabel™ is a first of its kind product transparency initiative that enables consumers to get easy and instantaneous access to detailed information about the products they consume. The initiative was created by manufacturers and retailers and organised by the Grocery Manufacturers Association (GMA) in conjunction with the Food Manufacturing Institute (FMI) in December 2015.
Why? Well, It's no longer sufficient to simply list an ingredient. Consumers want to know what that ingredient is, where it came from and why it is in the product they are considering. "48% of consumers consider themselves to be 'not informed at all about the product' even after reading the products label and as a result 74% of consumers research online when the information on the product packaging and labels is not enough to meet their needs."1
The key trends that are driving the need for SmartLabel™ – Why is it important?
Desire by consumers for transparency. Consumers are skeptical as to whether big companies have their best interest in mind and to be honest, we can't really blame them. We have all heard the shocking revelations about what we have actually been consuming over the years; remember the infamous horsemeat shock in Europe or the baby milk scandal in China causing illness in infants?
It isn't surprising that as a result, consumers desire greater transparency and trust with brands and retailers on what is in the products they consume, a massive "98% of consumers believe it's important for them to consider the ingredients in the products they buy."2
The industry is responding with more natural, healthy and environmentally friendly products and ingredients but have minimal ways to communicate these changes, meaning that consumers are none the wiser and brands aren't feeling the benefit. SmartLabel™ provides a standardised and trustworthy mobile and web presentation of the product information for consumers to obtain more information, increasing transparency and greater trust.
Perpetual mobile access. Consumers are leveraging their smartphones as a touchpoint to get more information, "82% of smartphone users consult their phones on purchases they're about to make in store."2 SmartLabel™ provides a single source of truth for product data that consumers can easily access by simply scanning a code on the physical package (or by doing an online search), which will lead them to the SmartLabel™ landing page.
C-Suite demand. The recent FDA nutritional labelling changes and Vermont GMO labelling law in the US, highlights the costs and challenges in providing on-pack labelling. By moving labelling off the pack and onto a digital forum, this could provide significant supply chain agility and savings, which is creating a lot of energy and enthusiasm at an executive level. As a result, we are seeing SmartLabel™ implementations being driven from the top down.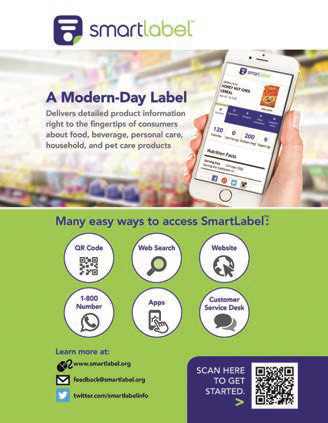 Connected packaging. There is a new age of non-traditional marketing channels that are inbound in nature, enabling access to information by creating passive content that consumers can engage with at their own discretion. QR codes, digital watermarks and other code technologies enable consumers to scan a pack and connect directly to web-based information or messaging, which is controlled directly by the brand owner. SmartLabel™ is another forum for brands and retailers to leverage as another consumer marketing touch point.
SmartLabel™ is a North American Initiative – Are there plans for global expansion?
It is correct that SmartLabel™ is predominately a North American initiative. It was created in North America and all (well, almost all) brands within SmartLabel™ are North American; that said, other regions need to take note. The need for transparency is active across the globe and there are a number of discussions being had across regions, with the European Brands Association (AIM), Food & Consumer Products of Canada (FCPC), Consumer Goods Forum (CGF), Australian Food & Grocery Council (AFGC) and more, to discuss global adoption of the SmartLabel™ initiative, or something similar.
Brands are engaging with SmartLabel™ at varying levels of sophistication – What are the different archetypes?
Since launch in December 2015 the GMA has projected that 'there will be more than 34,000 products using SmartLabel™ by the end of 2017, including food, beverage, personal care, pet care and household products. By 2020, it is projected that 60,000 products will be using SmartLabel™, which would account for more than 80% of products that consumers buy'.
As it stands today there are c. 14,670 product pages in SmartLabel™ across 450 different brands, with an additional 13 brands having publicly committed to be live by December 2017. All of these brands have implemented the initiative at varying levels of maturity – so what are the different archetypes that we are seeing?
SGK's Client Solutions team has been exposed to a number of discussions with companies as they begin to explore their approach to SmartLabel™. With this exposure, we feel that participants align to one of four archetypes:
Reluctant Participants: Companies whose Executive Leadership committed to participation but there is no strong ownership of vision in implementation.
Regulatory Hopefuls: Companies who are banking on future savings from using SmartLabel™ an online regulatory compliance tool.
Good Students: Companies who have embraced the core purpose of the SmartLabel™ program – driving consumer transparency.
SmartLabel™ Champions: Companies who have established clear, progressive goals for their SmartLabel™ program and have implemented across the majority of their portfolio.
Implementation Hurdles – What are the barriers to success?
To implement SmartLabel™ successfully the following 4 key things need to be taken into consideration:
Process. A new supply chain workflow must be developed to provide labelling information in a new way. With this come complexities of implementing multiple vendors:
– A code creation partner to create the codes and provide the technical infrastructure that will support the ongoing scanning and activity – leading the way in this space is Scanbuy with QR codes and Digimarc with digital watermarks.
– A website hosting provider such as Label Insight that is equipped to process, store and publish a high volume of product information.
– An artwork provider to apply the codes to an artwork and adapt the packaging graphics to incorporate the code if required.
Content. Creating an accurate data record of what was printed on each pack is complex and challenging and the time, cost and level of risk involved in re-keying the data to populate the SmartLabel™ pages is huge. Brands and retailers should look to leverage their pre-press partners to supply product information directly from the approved artwork to populate the SmartLabel™ pages – with this comes a number of time & cost benefits.
Codes. To enable the consumer to connect to the package using their smartphone, each product will require a code for consumers to scan. This presents multiple challenges, such as: technical issues regarding code creation, adjusting the artwork and placing the code in the correct location to avoid misdirection to the wrong location and the platform that enables you to track and modify performance of your code in the market.
Hosting. SmartLabel™ pages must be hosted for public use and any labelling changes on the package requires a new SmartLabel™ page to be created to reflect those changes. The infrastructure needs to be in place to manage the collection and distribution of accurate product data.
Schawk, a part of the SGK Brand Solutions group, has partnered with industry leaders Scanbuy, Label Insight, and Digimarc and can provide a suite of solutions to support implementation of SmartLabel™ and help you optimise this opportunity.
Hope Massey graduated Law and is a certified Prince2 Practitioner and Lean Six Sigma Advanced Green Belt. She has worked on a range of projects including major business change initiatives, process improvements, financial analysis & modelling, cost reduction, business re-structuring and product innovation. http://www.sgkinc.com
1. "STUDY: Consumers Seek Healthy Lifestyles, but Food Packaging Makes it Difficult," Label Insight, March 28, 2017. http://www. prnewswire.com/news-releases/study-consumers-seek-healthylifestyles- but-food-packaging-makes-it-difficult-300430044.html
2. "Five Top Digital Trends in Retail," Forbes, March 17, 2017. https://www.forbes.com/sites/danielnewman/2017/03/14/topfive- digital-transformation-trends-in-retail/#51abfe2f65