By / Christi na Veiders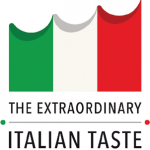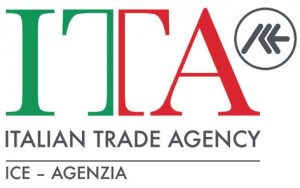 Italy increases exports and educates with "Made in Italy" products as retailers and their consumers discover the true flavors of Italy.
It's been a showcase year for Italy in branding its foods, beverages and other high quality goods as authentic — Made in Italy. The Italian government has launched aggressive initiatives to protect and grow Italy's agri-food export market and protect its homegrown, Italian-made products.
The Rome-based Italian Trade Agency spearheaded a multi-million dollar campaign in the U.S. and Canada to educate the public on authentic Italian foods and beverages. Letting consumers know "just because it looks Italian, doesn't mean it's Italian," according to an ad campaign tagline.
Authentic Italian products are those certified made in Italy as opposed to imitation products that use Italian images, wording and names in their branding to give an impression products are from Italy. Such products, however, are produced elsewhere and not necessarily made with ingredients from Italy.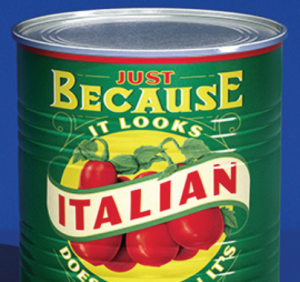 Italian imitations have undercut the export of authentic Italian product sales. Worldwide sales of imitation Italian foods are estimated at $54 billion euros a year, more than double exports of authentic Italian agri-foods. While Italian food imitations are generally priced lower than authentic Italian, they also generally suffer in quality when compared to genuine, made-in-Italy goods.
"Many countries still have no deep knowledge of real Italian products so they can easily fall prey to deceptive messages. An Italian flag on the label does not make the product Italian and consumers must understand the difference," said Luca Ricci, CEO, Bocon Srl, a manufacturer, based in Pieve di Soligo, Treviso, Italy, that produces frozen ready-made meals and private label.
Non-authentic Italian products result in a "distorted Italian taste experience," but retailers who promote authentic Italian products will win the loyalty of consumers "as true Italian flavors leave a mark and it's hard [for consumers] to revert to imitations," Ricci added.
Simply put, "If you're not buying Italian, you're not eating Italian," Matteo Picariello, ITA commissioner in Chicago, commented recently. As he fervently stated, "You're buying part of Italy: the richness of soil, air and sun, the passion of Italian craft and the quality demanded by its people."
In June, The ITA Chicago Office partnered with the Food Marketing Institute to create an Italian pavilion with 50 Italian food and beverage companies represented at the FMI Connect show in June. Retailers not only tasted authentic Italian food and wine, but discovered they could merchandise made-in-Italy products to enhance their own image and brand range.
"This has been a positive evolution for Italy, however, the distribution of authentic Italian products is still limited through U.S. mass retail channels. We are determined to introduce the best of quality products available in these markets, exported from Italy and representing tradition that can be tasted," said Roberto Luongo, ITA CEO, in a press statement.
Expo Milano 2015, a six-month exposition — themed "Feeding the Planet, Energy for Life" — ended last month. During its run, which attracted approximately 20 million visitors, over 140 countries focused on the full spectrum of agri-food production — health, safety and sustainability. The exposition also provided a world stage for Italy to present its agri-food culture and offerings from 20 diverse regions.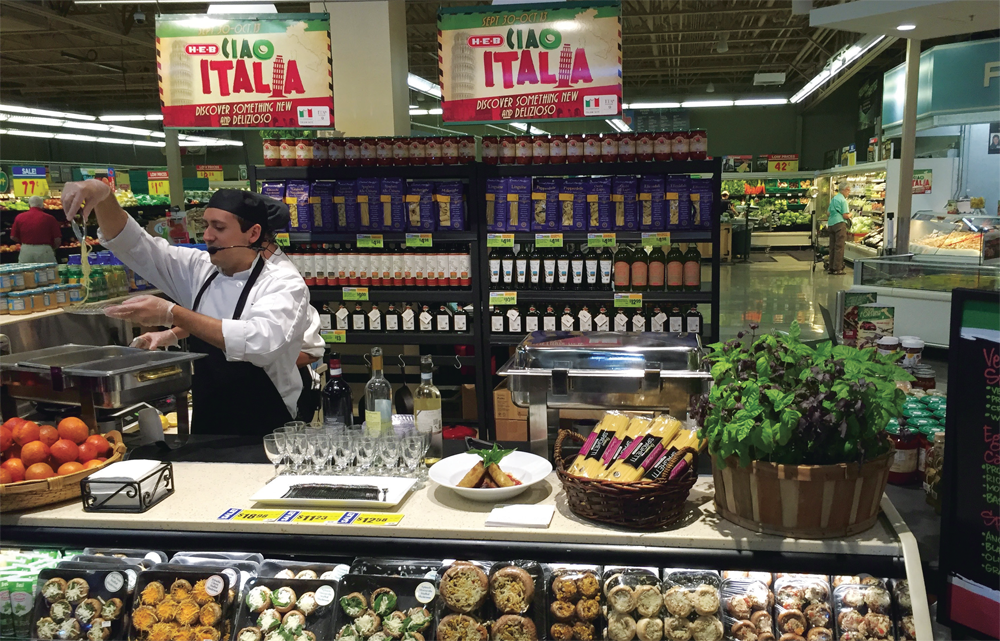 At the Expo, Italy debuted a logo to help distinguish its authentic Italian food products. The logo tagline: "The Extraordinary Italian Taste" carries the image of the Italian flag waving to represent growth and development. The logo is used at international trade events and in advertising campaigns, but not on individual products.
Food, fashion and design retailers such as H-E-B, Nordstrom, Neiman Marcus, Williams Sonoma and online furniture retailer AllModern focused on promoting madein-Italy brands that emphasized certification, quality,craftsmanship and innovation.
Italy remained vigilant on the food labeling front, drafting a bill that would amend European Union regulation 1169 and reinstate a rule that would make it compulsory to list the manufacturing plant where products are produced and packaged in Italy.
Maurizio Martina, Italian Minister of Agriculture, Food and Forestry Policy, said Italy is "committed to restoring the obligation to display the factory on the label … Transparency and accuracy of information must be granted to consumers when it comes to food."
Italian consumers overwhelming value origins of food tobe clearly stated on food labels.
A survey, conducted by the Ministry, found 96% of the 26,000 Italian consumers surveyed said it was important to declare origins on food labels and 82% said they would be willing to spend more to be certain of the product's Italian origin and source.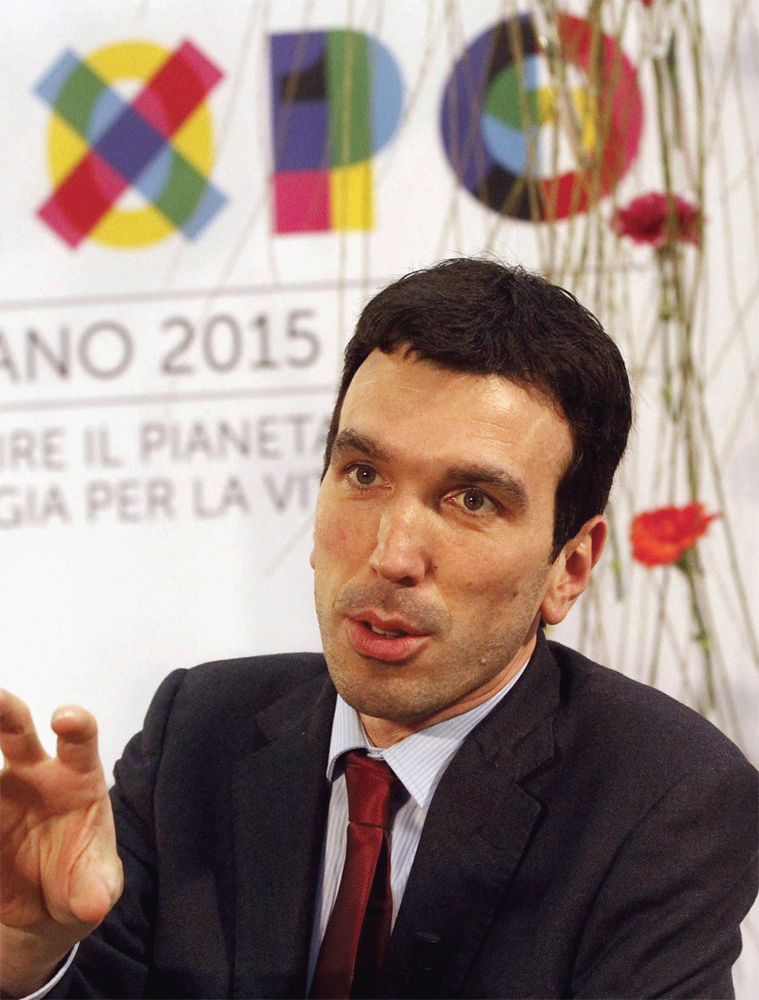 No 1 in EU Certified Products >>
When it comes to authentic Italian food and beverages, it's about the terroir.
The French term, often used in discussing the unique characteristics of regional wines, is a concept that broadly links agricultural products to its origin — country, region, soil, climate, environment, technique and know how.
To protect the provenance and reputation of regional foods, the EU has certification in three classifications that guarantee the originality of specific products: DOP (Denominazione di Origine Protetta), Protected Designation of Origin; IGP (Indicazione Geografica Protetta), Protected
Georgraphical Indication and TSG (Specialita' Tradizionale Garantita), traditional specialty guaranteed.
To be certified, each product has to conform to production regulations and geographical restrictions.
Italy ranks as No. 1 in certifications with 279, followed by France, 226, and Spain, 185.
Such certification of products helps eliminate unfair competition from imitations and prevents consumers from being mislead. However, Italian food manufacturers face the challenge of marketing their certified products in top export markets such as the U.S. and Canada that don't abide by EU labeling regulations that protect geographic designations of origin.
ITA, therefore, backed by a $25 million budget, is concentrating its promotional efforts on retailers and consumers in the U.S. and Canada.
Last month Mariano's, a Roundy's banner of 33 stores in Chicago, and H-E-B, a San Antonio, Texas-based regional chain with over 350 stores, ran ITA-sponsored Italian food and beverage promotions over a several week period. Both chains introduced and highlighted hundreds of new Italian imports to coincide with their promotions. In doing so, they emphasized to their shoppers what makes Italian food and beverage special and unique.
Mariano's themed this year's event "La Tavola Italiana" celebrated by hosting a series of interactive cooking demonstrations, product tastings and events with Chicago chefs inspired by modern Italian cuisine.
Some chefs took shoppers on store buying tours before a demonstration to gather ingredients sourced from Italy for recipes they were preparing.
A four-page section in Mariano's 12-page circular in October featured 24 imports from Italy. Brands included Garofalo pasta, Accademia Barilla balsamic vinegar, Pomi Italian tomatoes, Lavazza and Illy coffees, Loacker Italian quadratini cookies, Levoni prosciutto di Parma, Ambrosi
parmigiano reggiano, Smeraldina and Sant'Anna waters, all on price specials.
Besides highlighting new Italian imports, retailers also included their own made-in-Italy store brands. Mariano's under its Signature Curated Selections has an extra virgin olive oil from Italy with a blend of olives, hand picked from groves at the foot of the Marfuga hills in Umbria, the retailer stated on its website. Simply Roundy's Organic Prosciutto Di Parma is a product of Italy, free from preservatives, artificial colors & flavors.
In conjunction with its partnership with ITA, H-E-B introduced 3,000 branded and private label Italian-made items.
During a press conference announcing the deal, Jody Hall, H-E-B director of global sourcing said, "With these specialty products, customers will be able to make that memorable dish they had on vacation, or prepare an authentic Italian recipe with affordable ingredients, straight from the source."
H-E-B's theme this year — "Ciao, Italia!" — included a sweepstakes for a chance to win a Fiat, a Vespa and a trip for two to Italy.
Under its Primo Picks, H-E-B highlighted Flavors of Italy, including Central Market Pasta di Gragnano, Sicily Extra Virgin Olive Oil and Organics Italian Blood Orange Soda.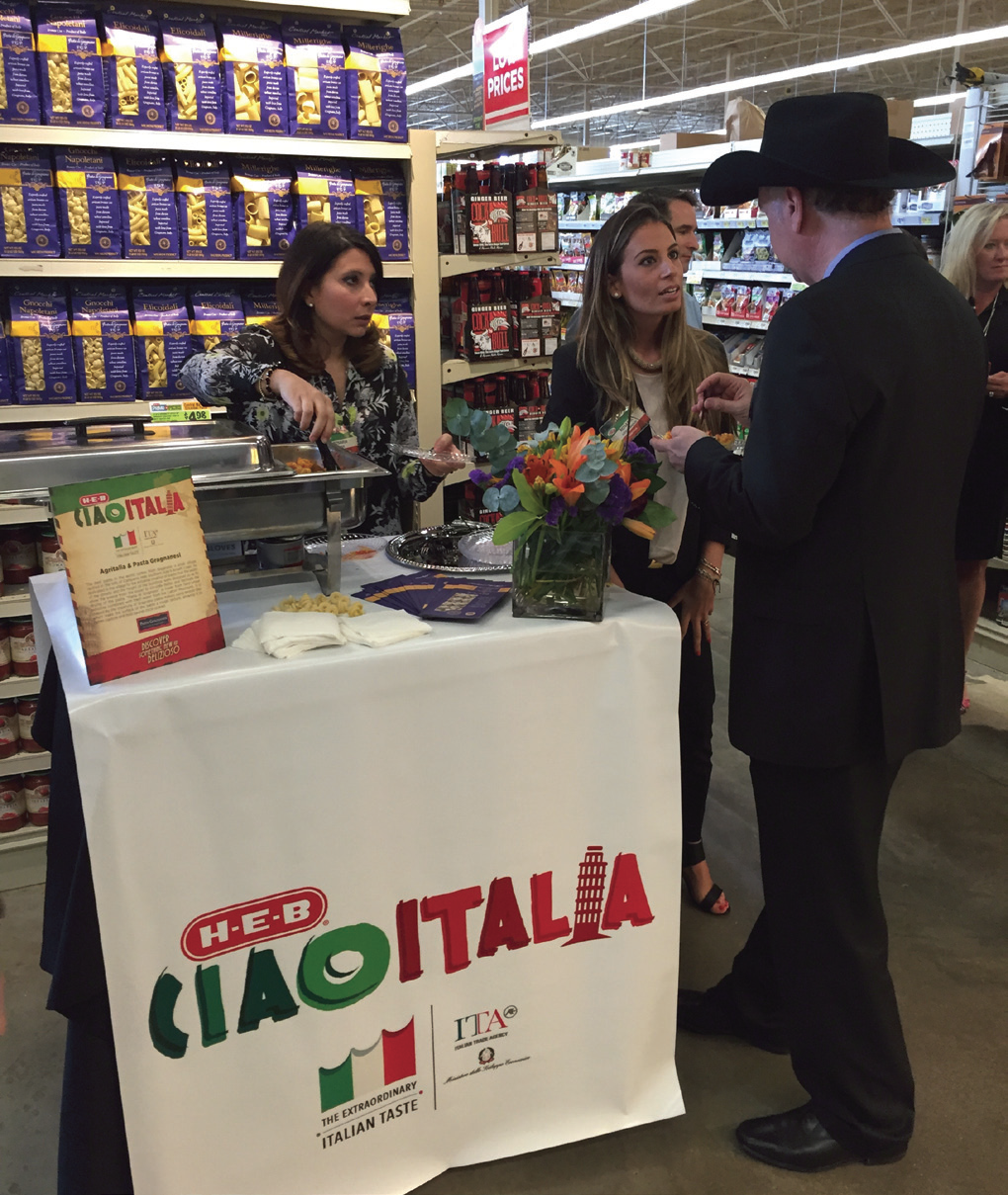 In 2013, the export of Italian food products to the U.S. grew by 10% and in 2014 by 6.5%, placing Italy in ninth place in the ranking of countries supplying the U.S., according to ITA figures.
The ITA's (Chicago Office) extends and invitation to visit the Italian Pavilions (Food F2040) and (Non-Food H506) during PLMA 2015 Chicago and experience the manufacturing tradition and excellence of "Authentic Italian" products.
The ITA's (Chicago Office) extends and invitation to visit the Italian Pavilions (Food F2040) and (Non-Food H506) during PLMA 2015 Chicago and experience the manufacturing tradition and excellence of "Authentic Italian" products.