MIHAS 2022, the largest Halal trade show in the world, kicked off with a well-attended physical B2B International Sourcing Programme (INSP) at Menara MATRADE, Kuala Lumpur a day before the trade show opens its doors on 7 September 2022.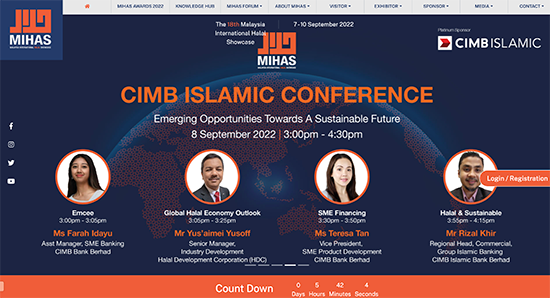 Organized in conjunction with the 18th Edition of MIHAS, the in-person B2B session hosted pre-arranged business meetings for over 200 international buyers and more than 300 Malaysian exporters. The flagship business matching program of the Malaysia External Trade Development Corporation (MATRADE) saw over 1,500 pre-arranged B2B meetings facilitated during its physical event. The B2B meetings included with those with premium buyers from countries such as Qatar, Saudi Arabia, USA, India, and Turkey that were identified by MATRADE's 46 global offices. These premium buyers represent some of the largest conglomerates, retailers, and supermarkets in their respective countries.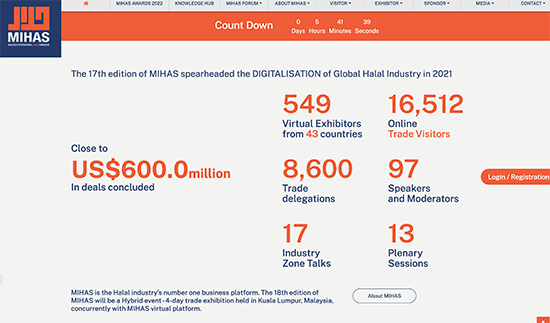 Meanwhile, MATRADE's virtual B2B meeting program for MIHAS which launched in May has hosted close to 200 international buyers and over 200 Malaysian exporters, to-date, which is anticipated to generate an estimate of US$10 million in potential sales.
"MATRADE is thrilled to see the INSP MIHAS programme being well received by both international buyers and Malaysian exporters,' said MATRADE CEO, Datuk Mohd Mustafa Abdul Aziz. According to the CEO, MATRADE has received continuous demand well beyond the closing date of the virtual program on 31 August after running it for 4 months and thus he proudly announced its extension.

"We are pleased to share that MATRADE is extending the INSP MIHAS virtual programme until 15 November 2022. This is a positive sign for Malaysia's trade performance as well as the limitless opportunities in the Halal economy," said MATRADE CEO, Datuk Mohd Mustafa Abdul Aziz.
Combining the impact of the physical and virtual meeting formats, INSP MIHAS is assisting over 400 buyers from 50 countries from around the world to promote high value trade deals in all facets of the Halal industry. The INSP is one of the many reasons that MIHAS is the trade event for the Halal industry.
If you are a buyer and would like to register for the virtual INSP MIHAS 2022, visit: https://tpms.matrade.gov.my/matrade-tpms/promotionRegistrationPublicSubmitSearch/13428
For more information on MIHAS2022, visit www.mihas.com.my.
The 18th Malaysia International Halal Showcase is strongly supported by Malaysia Convention & Exhibition Bureau, and agency under the Ministry of Tourism, Arts and Culture Malaysia.