A lot has happened in the three years we've been away from PLMA Chicago, and we're excited to get back to business in-person. The good news is that PLMA is coming off a very successful World of Private Label trade show in Amsterdam and have a sold-out show in Chicago. There are more than 1,300 exhibitors representing food and non-food suppliers from nearly 50 countries. Visitor registration is tracking as expected in advance of the show, too. So we thought to check in with PLMA President Peggy Davies for some insight.
Peggy, it's been three years since the last in-person Private Label Trade Show in Chicago. What's happened in the store brands industry?
Quite a lot, more than you likely have space for. But the most significant is that store brand sales are up this year, ahead 9.8% through September. That's nearly twice the rate of national brands, which are plus 5.4%, according to IRI. This follows a record $200 billion in sales last year, when store brands accounted for one of every five products sold across all U.S. channels. That result represented a return to the steady, single digit growth we've seen over recent years. For example, just prior to the pandemic, in 2018 and 2019, annual sales were up 5% and 6%, respectively. 2020, was a clear outlier. Store brand sales jumped 12% amid the nationwide shutdown of foodservice, a greater emphasis on cooking at home, and a boom in online ordering.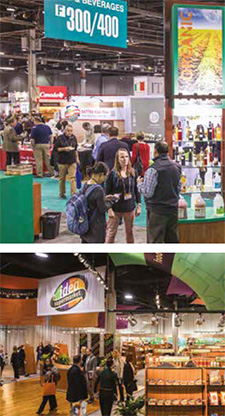 This year, if the year-to-date trend holds, we expect an annual sales increase in the neighborhood of 9%. And that will be a very good year for the industry.
Why are store brands growing so much?
One reason is that store brands have come to be recognized by shoppers as a dependable ally against persistent inflation and other financial pressures. That's not a surprise. During past periods of economic difficulties in this country, such as the 2008 recession and the years following, store brands sales increased sharply. In PLMA surveys at the time, shoppers across the country reported a high degree of satisfaction with store brands they purchased for the first time, adding they would continue to buy them when the recession ended. Proving again that consumer trial is store brands' best friend.
So, there is lasting benefit for store brands each time an economy-related bump in sales occurs. Consumers stick with them.
Another reason for the surge is that store brands and the retailers who market them have been very responsive to consumers' new demands in the wake of the pandemic. As you walk the show floor you'll see that reflected in the many new and innovative products on display.
Lots of colleagues ask, why is Chicago the site for PLMA's trade show?
Not many know this, but our show is annually ranked a Gold 100 event, identifying it as one of the largest trade events in North America. Because of our size, we need more than one million square feet of space. The Donald E. Stephens Convention Center is one of the few venues in the U.S. that can accommodate us.
Plus, Chicago is convenient to reach. O'Hare offers daily direct flights from all over the country and for our international attendees, there are more than 100 daily direct international flights.
Anything new that visitors should be looking for while walking the show floor?
Well, there's certainly a lot to see when you're talking about 1,300 exhibitors. In general, I think visitors will want to pay attention to all the innovative products we're seeing that use raw ingredients, have holistic attributes, and are focused on sustainability in terms of manufacture, supply chain, use and disposal. There's also plant-based, free-from and self-care items that are new this year, not to mention the hemp-derived CBD products that we think will generate quite a "buzz".
The national pavilions are a big part of the show. There will be more than 350 booths in two dozen national pavilions from Europe, Latin America, and Asia. We believe the growth in international booths is largely spurred by changing U.S. demographics and increased consumer demand for food with an international and ethic character or origin. Our international exhibitor numbers are also growing in response to U.S. retailers who are seeking overseas suppliers for their international and ethnic store brands.
Wine and spirits is another product category attendees will want to check out. Store brand wine and spirits continue to grow in retail stores across the country. There are nearly two dozen suppliers exhibiting this year with innovative flavors, packaging and promotions for organic wines and cabernets, merlots and pinots from Argentina, Australia, Italy, Kosovo, South Africa, Spain, among other countries. You won't want to miss the canned cocktails, beer, whiskey, and bourbon that are also featured.
We've covered a lot, is there anything else you think visitors should know about this year's show?
I hope everyone will join us on Sunday, 11/13 in the afternoon for the Opening Seminars, on Monday for the Keynote Breakfast and Tuesday for the Retail Trends breakfast. A not to miss area is the Idea Supermarket which includes New Product Expo and Salute to Excellence award winning products.
The trade show floor will be arranged in separate halls of the convention center so that exhibitors can be easily found. The South Hall will be devoted to health and beauty, OTC pharmaceuticals, household goods, kitchenware and general merchandise. Food, snacks, beverages, and refrigerated and frozen foods will be featured in the North, South and Sky Halls.
Finally, in the wake of two successful shows over fewer than six months in what is still a very difficult environment for trade shows, particularly in-person events, what's next for PLMA? Will you celebrate a bit? And have we seen the end of online programs?
Well, we might all take a few days off and catch our breath, but we have a full plate for 2023.
There will be a place for online events as well as in-person. We will be back in-person at our upcoming Annual Meeting and Leadership Conference in March in Orlando, our Lunch and Learn online program will start in January.
Most importantly, we are very grateful to be back to live shows. There is no substitute.
As we approached our first in person show in three years, we're enthusiastic and cautiously optimistic. We've exceeded our expectations with attendance and the sold-out show. I know everyone is looking forward to the social and professional networking that our show provides.