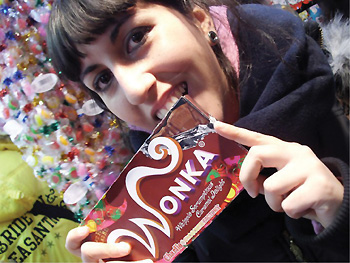 Written / IRENE TORTORELLA
My life story has never drawn inspiration from a lifestyle brand. Or this is what I supposed. I felt myself one of those 50,000 consumers who feels that if 70% of brands disappeared entirely I would not even notice (Meaningful Brands Survey, 2011). Actually I am a crank about Vivienne Westwood, but I was never able to afford to buy her creations and imagine myself dressed like Captain Hook's bride. It is probably for this reason that I don't have a lifestyle brand, but rather, I have hundreds of private labels that make my life easier, special and full of possibilities.
I am sure I would notice if all of sudden the closest Lidl store disappeared, with all those extraordinary private-label products. That's why I started to mull over the importance of private-labels in the life of a 27 years old Italian expat, that is me. My mom is obsessed with household goods: her Kaufgut Fondue set has always been the feather in the cap of dinners with her friends. For me fondue was not just melted cheese with bread dipped in, it was the opportunity to gather sisters and cousins around a heaving pot of bubbling Zaini chocolate, just once a year, for Christmas.
Private labels keep my memories alive: I will never forget my father's Endura watch, the Fabriano's drawing book that my grandfather bought for me every Sunday, the conversations between my aunts about their dream for the opening of a Coop in Calabria. I had to wait for the university in Naples, in the north of my south, to see the importance of being a student living close to the best hard discount of the zone. "Marca pezzotta" or "marca scatò" is the youth's way to rename white label products, good quality at a lower cost. All the out of town students identified, somehow, themselves with every marca pezzotta they went through. It was definetly a lot of fun cooking some pasta Baronia at 4 AM after drinking a bunch of "Beer" beers all night long. We were without a cent, but absolutely ready to conquer the world.
My first step in that direction was leaving to South Korea, the place where you cannot avoid brands, logos and garlic. All alone with my Roncato's luggages (that I won thanks to Billa's collection of points) I headed out my long journey ready to give sense to the Korean alphabet and to Korean girls' need to buy a lot of Berrybow accessories. Apparently private labels were part of my life in Seoul as well. Skinfood and Thefaceshop cosmetics covered the dark circles under my eyes every morning before classes and Tesco pasta fed me for each of those 365 days of my fellowship. Private labels definetly saved me from daily rice and kimchee of the university canteen.
Fast forward to last night. I found myself at an electro-party in The Hague, Netherlands: no need to say, my black Zara one-piece was the first choice for that last-minute invite. Probably I would never be such person who has one lifestyle brand but I will always prefer to let my life's private labels continue to build my identity and personality with their honest, pure, simple, natural and authentic products and stores. Small brands that don't dominate our lives and don't restrict our choices, but give value to everyone and democratically let us decide who we are, or, at least, who we eager to be.
Irene Tortorella is…your customer.